The Department of General Dentistry
Residency Program
Get to Know Us


O. Lee Wilson, DMD
Program Director and Chair


Tyler Davis, DDS
2018-2020 Resident
Program Goals and Objectivess
The University of Tennessee Graduate School of Medicine (UTGSM) has had a postdoctoral residency training program in general dentistry since 1977. The current program is fully accredited and provides training for four first-year positions. There are provisions for an additional year of training to one or two residents each year. Residents receive instruction and obtain experience in all phases of inpatient and ambulatory dental care under the supervision of attending dentists.
The volume of outpatients who desire care in this facility is such that those residents have the opportunity to undertake a variety of clinical experiences that will be of benefit to their overall training. This population, along with patients seen from inpatient services, provides broad training in the dental management of the medically compromised.
The overall objective of this hospital based program is to produce general dentists who have developed a level of clinical competency that will allow them to practice where there is an increased reliance on total patient evaluation, and alongside their colleagues in the health care community. These broad objectives have the following specific goals:
Act as a primary care provider for individuals and groups of patients. This includes: Providing emergency and multidisciplinary comprehensive oral health care; providing patient focused care that is coordinated by the general practitioner; directing health promotion and disease prevention activities, and using advanced dental treatment modalities.

Plan and provide multidisciplinary oral health care for a wide variety of . patients including patients with special needs.

Manage the delivery of oral health care by applying concepts of patient and practice management and quality improvement that are responsive to a dynamic health care environment.

Function effectively within the hospital and other health care environments.

Function effectively within interdisciplinary health care teams.

Apply scientific principles to learning and oral health care. This includes using critical thinking, evidence or outcomes-based clinical decision-making and technology-based information retrieval systems.

Utilize the values of professional ethics, lifelong learning, patient centered care, adaptability, and acceptance of cultural diversity in professional practice.

Understand the oral health needs of communities and engage in community service.
Goals for the Second Year of Study
To provide for an increased period of time for experience with outpatient dental care and to build on the assessment and treatment skills gained during the first year of training, thus enabling them to accomplish a greater volume of dental care and perform more complex dental procedures.

To increase the responsibility given to the second year (chief) resident in regards to supervising the first year resident's training, clinically and didactically.

To increase the administrative responsibilities, to prepare them for a broader range of choices of careers in dentistry, whether it is entering private practice, specialty training, or academics.
Simulated Dentistry Training
The UT Center for Adanced Medical Simulation is a state-of-the-art, 6,500 square-foot facility that includes a dentistry training room to improve the quality of patient care and safety through education, practice and assessment. More
---
The Facility
Residents receive their training at the UTGSM on The University of Tennessee Medical Center (UTMC) campus. Offices are located on the third floor of Professional Office Building A. In September 1992, the Department of General Dentistry and the Department of Oral and Maxillofacial Surgery moved into this new facility, which is approximately 4,800 square feet.
The facility includes six dental operating rooms and two dental hygiene operating rooms as well as an instrument sterilization room and a laboratory. The dental residents have a 180 square-foot residents' room equipped with workstations and a computer area. This facility in the general dental wing also has a faculty office for the part-time faculty and specialists when they come to teach or treat patients at the hospital.
The Instruction
The teaching faculty for the Department of Dentistry consists of full- and part-time individuals. There are nine private practitioners from the community who are involved in chair side and didactic teaching of residents. This well-rounded and dedicated group of general practitioners and specialists ensures high quality instruction to the residents.
Top
---
What Our Residents Are Saying:
"The UTGSM General Practice Residency is a private dental practice in a hospital setting. I chose this program so I could become better prepared to care for medically compromised patients, and I wanted to learn about new technology, forensics dentistry and how to treat patients in the OR."

Laura Hofto, DMD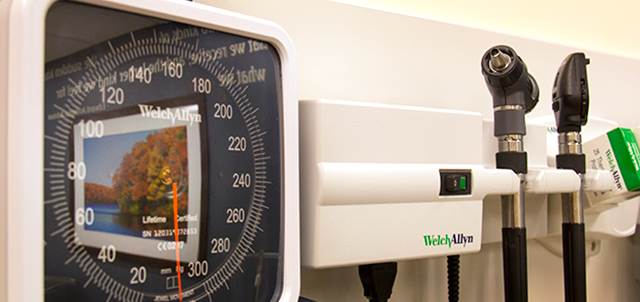 Headlines
The University of Tennessee Graduate School of Medicine
1924 Alcoa Highway
Knoxville, Tennessee 37920 | 865-305-9290
Copyright © 2022