The Department of General Dentistry
Murray K. Marks, PhD
Associate Professor
Division of Forensic Odontology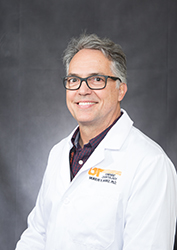 Clinical Focus
Mineralized tissue biology and histology; dental enamel histopathology; skeletal trauma histology; fetal dental development, human identification/forensic anthropology
Education
Graduate School
Master of Arts, Biological Anthropology, University of Arkansas, 1988
Doctorate of Philosophy, Anthropology, Univeristy of Tennessee, 1993
Professional Affiliations
American Association of Physical Anthropology
American Academy of Forensic Sciences
British Association for Human Identification
Dental Anthropology Association
International Association for Craniofacial Identification
Current Publications
Sterrett JD, Marks M, Dunlap J, Swann J, Dunn M.
The effect varied scanning electron microscopy desiccation techniques has on demineralized dentin. Microscopy Research and Technique. 2019 Aug;82(8):1249-1255. Epub 2019 Apr 11.
Faillace KE, Bethard JD, Marks MK.
The applicability of dental wear in age estimation for a modern American population. American Journal of Physical Anthropology. 2017 Dec;164(4):776-787. Epub 2017 Oct 27.
Current Presentations
Wilson OL, Marks MK, Hurley EM, Weisner JK. Forensic odontology and disaster victim identification. Presented at 29th Annual Meeting on Special Care Dentistry; 2017 Mar 10-12; Charlotte, NC.
Top
---
The University of Tennessee Graduate School of Medicine
1924 Alcoa Highway
Knoxville, Tennessee 37920 | 865-305-9290
Copyright © 2019