The Department of Anesthesiology
J. Russell Langdon, MD
Clinical Associate Professor
Division of Critical Care
Division of Neuroanesthesiology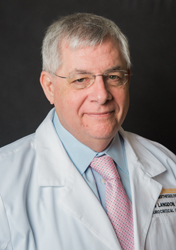 Clinical Focus
Anesthesiology Critical Care
Research Focus
Dr. Langdon is interested in the role of the microbiome in chronic diseases including Alzheimer's, Parkinson's, ALS (Lou Gehrig's Disease) and spondyloarthropathies. These data could lead to new insights into how our microbiome influences the immune system and whether immunomodulatory medications may work best for these conditions.
Education
Medical School
University of Tennessee College of Medicine

Residency and Fellowship
Medical Center of Vermont, Burlington, Vermont 1979-1984
Certifications
Diplomate, American Board of Anesthesiology, 1986
Diplomate, United Council for Neurologic Subspecialties, 2007
Critical Care Medicine, 1989
Professional Affiliation
Abstract Reviewer. Society of Critical Care Medicine Annual Meeting; 2006, 2007, 2009.
Current Publications
Rowe AS, Rinehart DR, Lezatte S, Langdon JR.
Intracerebral hemorrhage after external ventricular drain placement: An evaluation of risk factors for post-procedural hemorrhagic complications. BMC Neurology. 2018 Mar 7;18(1):22.
Current Presentations
Weil M, Langdon R. ADEM presenting as viral meningitis in 18 yo female. Presented at Neurocritical Care Society; 2017 Oct 10-13; Waikola, HI.
Top
---