The Department of Anesthesiology
Michael D. Godbold, MD
Assistant Professor
Division of Pediatric Anesthesiology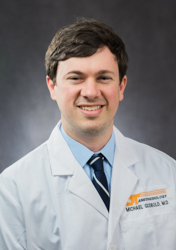 Clinical Focus
Pediatric Anesthesia and Quality Improvement
Education
Medical School
Emory University School of Medicine
Residency
Anesthesiology,University of Tennessee Graduate School of Medicine
Fellowship
Pediatric Anethesiology, Emory University School of Medicine
Certifications
American Board of Anesthesiology, Anesthesiology
American Board of Anesthesiology, Pediatrics
Professional Affiliations
American Society of Anesthesiologists
Society for Pediatric Anethesiology

Book Chapter
Godbold MD, Craft RM: Type, screen and crossmatch of red blood cells. In Faust's anesthesiology review, 5th ed. St. Louis: W.B.Saunders Company; 2019. Chapter 79, p. 235-236.
Current Publications
Lee LO, Bateman BT, Kheterpal S, Klumpner TT, Housey M, Aziz MF, Hand KW, MacEachern M, Goodier CG, Bernstein J, Bauer ME, Lirk P, Wilczak J, Soto R, Tom S, Cuff G, Biggs DA, Coffman T, Saager L, Levy WJ, Godbold M, Pace NL, Wethington KL, Paganelli WC, Durieux ME, Domino KB, Nair B, Ehrenfeld JM, Wanderer JP, Schonberger RB, Berris J, Lins S, Coles P, Cummings KC, Maheshwari K, Berman MF, Wedeven C, LaGorio J, Fleishut PM, Ellis TA 2nd, Molina S, Carl C, Kadry B, van Klei WA, Pasma W, Jameson LC, Helsten DL, Avidan MS.
Risk of epidural hematoma after neuraxial techniques in thrombocytopenic parturients: A report from the multicenter perioperative outcomes group. Anesthesiology. 2017 Jun;126(6):1053-1063.. Epub 2017 Apr 6.
Current Presentations
Godbold MD. Quality and metrics and how to use the data. Presented at Tennessee Society of Anesthesiologists (Invited Lecture); 2020 Feb 22; Nashville, TN.
Dodd M, Godbold M. A case of severe aortic stenosis management in a parturient complicated by postpartum hemorrhage and disseminated intravascular coagulation. Presented at ANESTHESIOLOGY Annual Meeting; 2017 Oct 21-25; Boston, MA.
Top