The Department of Surgery
Andrew J. Russ, MD, FACS
Associate Professor
Associate Program Director, General Surgery
Division of General Surgery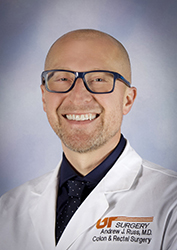 Clinical Focus
Colorectal Surgery
Education
Medical School
Wright State University School of Medicine, Dayton, Ohio, MD 2006
Residency
General Surgery, University of Wisconsin Hospital and Clinics, Madison, Wisconsin, 2013
Fellowship
Research, University of Wisconsin Hospital and Clinics, Madison, Wisconsin, 2010
Fellowship
Colorectal Surgery, University Hospitals Case Medical Center, Cleveland, Ohio, 2014
Certifications
American Board of Surgery
American Board of Colon and Rectal Surgeons
Professional Affiliations
Association of Surgical Education Member (2014-present)
American College of Surgeons Associate Member (2014-present)
American Society of Colon and Rectal Surgeons Member (2014-present)
Southeastern Surgical Congress Fellow (2015 – present)
Current Publications
Beierle SP, Kirkpatrick BA, Heidel RE, Russ A, Ramshaw B, McCallum RS, Lewis JM.
Evaluating and exploring variations in surgical resident emotional intelligence and burnout. Journal of Surgical Education. 2019 Jan 15. [Epub ahead of print]
Lee SG, Russ AJ, Casillas MA Jr.
Laparoscopic transanal minimally invasive surgery (L-TAMIS) versus robotic TAMIS (R-TAMIS): short-term outcomes and costs of a comparative study. Surgical Endoscopy. 2018 Dec 13. [Epub ahead of print]
Russ AJ, Casillas MA.
Gut microbiota and colorectal surgery: Impact on postoperative complications. Clinics in Colon and Rectal Surgery. 2016 Sep;29(3):253-7.
Current Presentations
Beierle S, Russ A, Heidel RE, McCallum S, Kirkpatrick MS, Lewis J. A longitudinal study of correlations between emotional intelligence and resident burnout. Presented at Association of Program Directors in Surgery, Association of Residency Administrators in Surgery, Association for Surgical Education; 2018 May 3-6; Austin, TX.
Lee S, Russ A, Casillas M. Laparoscopic transanal minimally invasive surgery (L-tamis) vs robotic tamis (R-tamis): Short-term outcomes and costs of a prospective comparative study Presented at 16th World Congress of Endoscopic Surgery; 2018 Apr 11-14; Seattle, WA.
Beierle S, Russ A, Heidel RE, Kirkpatrick B, McCallum S, Lewis J. A correlation between emotional intelligence and burnout in surgical residents. Presented at Tennessee American College of Surgeons Annual Meeting; 2017 Aug 4-6; Nashville, TN.
Bhat S, Cavalea A, Alexander M, Casillas MA, Russ AJ. Combined endoscopic and laparoscopic surgery (CELS) offers improved patient outcomes versus Laparoscopic Colectomy (LC) for endoscopically unresectable Colorectal Neoplasms. Presented at American Society of Colon & Rectal Surgeons Tripartite Meeting; 2017 Jun 10-14; Seattle, WA.
Beierle SP, McLoughlin J, Heidel RE, Casillas M, Russ AJ. Colorectal cancer outcome disparities increase with distance from treating facility. Presented at Academic Surgical Congress; 2017 Feb 7-9; Las Vegas, NV.
Ponten R, Black CB, Russ AJ, Rucker DC. Analysis of a concentric-tube robot design and feasibility for endoscopic deployment. Presented at The International Society for Optics and Photonics: Progress in Biomedical Optics and Imaging; 2017 Feb 14-17; Orlando, FL.
Top