The Department of Surgery
Melissa P. LaPinska, MD
Associate Professor
Division of General Surgery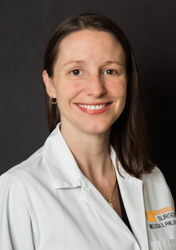 Clinical Focus
Abdominal wall reconstruction and complex hernia repair; Surgical endoscopy with a focus on advanced endoscopic techniques for the management of the post-surgical complications; Minimally invasive GI surgery; Single incision surgery
Research Focus
Abdominal wall reconstruction and complex hernia repair; Surgical endoscopy; Surgical education
Education
Medical School
Johns Hopkins University School of Medicine, Baltimore, MD
Internship
General Surgery, University of Virginia Health System, Charlottesville, VA
Residency
General Surgery, University of Virginia Health System, Charlottesville, VA
Fellowship
Laparoendoscopic Surgery, University Hospitals, Case Medical Center, Cleveland, OH
Certification
American Board of Surgery
Professional Affiliations
American College of Surgeons
Society of American Gastrointestinal and Endoscopic Surgeons
American Society for Gastrointestinal Endoscopy
Association of Women Surgeons
Society for Surgery of the Alimentary Tract
University of Virginia Gold Humanism Honor Society
American Hernia Society
Knoxville Academy of Medicine
Tennessee Medical Association
Current Publications
Bittner JG 4th, El-Hayek K, Strong AT, LaPinska MP, Yoo JS, Pauli EM, Kroh M.
First human use of hybrid synthetic/biologic mesh in ventral hernia repair: A multicenter trial. Surgical Endoscopy. 2017 Jul 19. [Epub ahead of print]
Orenstein SB, Raigani S, Wu YV, Pauli EM, Phillips MS, Ponsky JL, Marks JM.
Peroral endoscopic myotomy (POEM) leads to similar results in patients with and without prior endoscopic or surgical therapy. Surgical Endoscopy. 2015 May;29(5):1064-70. Epub 2014 Sep 24.
Current Presentations
Beierle S, Heidel E, Lewis J, Stewart E, Bell J, Gray K, LaPinska M, Mancini M, Nelson HS, McLoughlin J. A novel technique using intraoperative fluoroscopy as a tool to achieve negative margins after a wire-guided partial mastectomy. Presented at Southeastern Surgical Congress Annual Scientific Meeting; 2016 Feb 20-23; Atlanta, GA.
Top