The Department of Surgery
Lawrence S. Lee, MD
Assistant Professor
Division of Cardiothoracic Surgery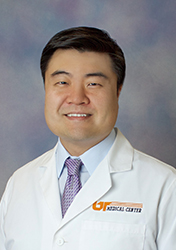 Clinical Focus
Cardiothoracic Surgery
Education
Medical School
University of Pennsylvania School of Medicine, Philadelphia, PA
Internship
Brigham and Women's Hospital, Harvard Medical School, Boston, MA
Residency
Surgery, Brigham and Women's Hospital, Harvard Medical School, Boston, MA

Fellowship
Thoracic Surgery, Brigham and Women's Hospital, Harvard Medical School, Boston, MA
Certifications
American Board of Thoracic Surgery
American Board of Surgery
Current Publications
Lee LS, Shekar PS.
Current state-of-the-art of device therapy for advanced heart failure. Croatian Medical Journal. 2014 Dec;55(6):577-86.
Cevasco M, Kwon M, Fiedler A, Lee LS, Shiao J, Shah RV, Worthington AH, Fox JA, Kwong RY, Chen FY.
Right heart failure: An ischemic model and restraint therapy for treatment. Annals of Thoracic Surgery. 2014 Apr;97(4):1356-62; discussion 1362-3. Epub 2014 Jan 24.
Top