The Department of Surgery
Sean A. Jordan, MD
Assistant Professor
Division of Cardiothoracic Surgery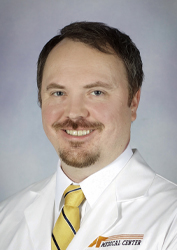 Clinical Focus
Lung cancer, Benign lung and pleura disease, Mediastinal tumors, Esophageal cancer, Benign foregut disease
Research Focus
Surgical Outcomes in Lung and Esophageal Cancer
Education
Medical School
University of Maryland School of Medicine, Baltimore, MD, 2012
Residency
General Surgery, University of Arizona College of Medicine, Tucson, AZ, 2017
Fellowship
Thoracic Surgery, Temple University Hospital/Fox Chase Cancer Center, Philadelphia, PA, 2019
Minimally Invasive Thoracic Surgical Oncology, Roswell Park Comprehensive Cancer Center Buffalo, NY, 2020

Certification

American Board of Surgery

Professional Affiliations
American College of Surgeons
Society of Thoracic Surgeons
American College of Chest Physicians
Current Publications
Jordan S, Yendamuri S.
Commentary: Better prognostication, but to what end? Seminars in Thoracic and Cardiovascular Surgery. 2021 Feb 15:S1043-0679(21)00028-9. [Epub ahead of print]
Current Presentations
Jordan SA. Neoadjuvant treatment of esophageal cancer. Presented at 11th Annual Big 4 Cancer Conference: Esophageal Cancer, Central Nervous System Cancers, Breast Cancer, and Managing Side Effects; 2023 September 29; Pigeon Forge, Tennessee.
Jordan S, Probst C, Gaines T, Shepherd M. ICG and its use in locating diaphragmatic defects. Presented at American College of Surgeons Clinical Congress 2022; 2022 October-16; San Diego, California.
Gee K, Jordan S. Persistent Chylothorax Requiring Surgical Intervention. Presented at Tennessee Chapter, American College of Surgeons ; 2022 August-11; Nashville, Tennessee.
Jordan S. Lung Caner. Presented at The University of Tennessee Grand Rounds; 2022 January-6; Knoxville, TN.
Top