The Department of Surgery
Joseph T. Chun, MD, MHIM, FACS
Associate Professor
Chief, Division of Plastic and Reconstructive Surgery
Division of Plastic & Reconstructive Surgery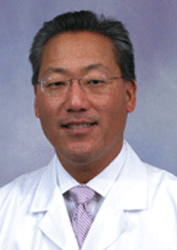 Clinical Focus
Facial cosmetic surgery, Cosmetic and reconstructive breast surgery, Body contouring after massive weight loss, Trauma reconstruction, Cancer surgery reconstruction
Research Focus
Breast reconstruction
Education
Medical School
Medical College of Virginia, Richmond, Virginia
Internship
General Surgery, University of Tennessee Graduate School of Medicine
Residency
General Surgery, University of Tennessee Graduate School of Medicine
Fellowship
Plastic Surgery, University of Texas Southwestern Medical Center at Dallas, Dallas, Texas
Certification
American Board of Plastic Surgery
Professional Affiliations
American Society of Plastic Surgeons
Tennessee Society of Plastic and Reconstructive Surgeons
Current Publications
Clegg DJ, Salomon BJ, Porter CG, Mazonas TW, Heidel RE, Chun JT, Herbig KS, Stephenson SM, Lloyd JM, Boukovalas S.
The Impact of travel distance and income on breast reconstruction after mastectomy in a rural population. Plast Reconstr Surg Glob Open. 2023 Feb 2;11(2):e4802. doi: 10.1097/GOX.0000000000004802. eCollection 2023 Feb.
Jong J, Gabriel A, Trekell M, Lawser AS, Heidel E, Buchanan D, Chun JT.
Cohesive round implants and the risk of implant flipping. Plastic and Reconstructive Surgery. Global Open. 2020 Dec 22;8(12):e3321. eCollection 2020 Dec. Available in PubMed: Jan 2021.
Current Presentations
Clegg D, Deek A, Salomon B, Heidel RE, Chun JT, Herbig KS, Stephenson SM, Carlson ER, Boukovalas S. Outcomes of Mandibular Reconstruction in a Rural Population: IS the Free Fibula Flap the Best Choice for All Patients? Presented at The Meeting; 2022 October-28; Boston, MA.
Jong J, Chun J. Prepectoral breast reconstruction and risk of anterior-posterior implant flipping. Presented at American Society of Plastic Surgeons; 2020 Oct 16-18; Virtual.
Top