The Department of Surgery
Alexander C. Cavalea, MD
Assistant Professor
Division of Trauma & Critical Care Surgery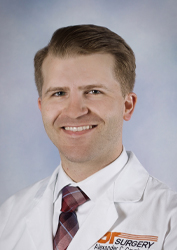 Clinical Focus
General Surgery, Trauma, Critical Care, Laparoscopic and Robotic Surgery, Hernia repair, Acute Pancreatitis, Rib fixation
Research Focus

Shock Resuscitation, Traumatic Cardiac Arrest, Gun Violence Prevention, Chest Wall Injury
Education
Medical School
The Chicago Medical School, Chicago, IL, 2014
Residency
General Surgery, University of Tennessee Graduate School of Medicine, Knoxville, TN, 2019
Fellowship
Surgical Critical Care, Louisiana State University Health Sciences Center, New Orleans, LA, 2020
Certifications
American Board of Surgery

Professional Affiliations
American College of Surgeons (ACS)
Eastern Association for the Surgery of Trauma (EAST)
Society of Critical Care Medicine (SCCM)
Chest Wall Injury Society (CWIS)
Current Publications
Cavalea AC, McGoey R, Schroll RW, McGrew PR, Schoen JE, Stuke LE, Guidry C, Marr AB, Duchesne JC, Hunt JP.
Maintaining trauma center operational readiness during a pandemic. American Journal of Disaster Medicine. 2021 Winter;16(1):25-34.
COVIDSurg Collaborative, GlobalSurg Collaborative (Cavalea A, Daley B, Humphreys B, Savoy R).
SARS-CoV-2 vaccination modelling for safe surgery to save lives: Data from an international prospective cohort study. The British Journal of Surgery. 2021 Mar 24:znab101. [Epub ahead of print]
Cavalea AC, Heidel RE, Daley BJ, Lawson CM, Benton DA, McLoughlin JM.
Pneumatosis intestinalis in patients receiving tube feeds. The American Surgeon. 2017 Aug 1;83(8):825-831.
Current Presentations
Bhat S, Cavalea A, Alexander M, Casillas MA, Russ AJ. Combined endoscopic and laparoscopic surgery (CELS) offers improved patient outcomes versus Laparoscopic Colectomy (LC) for endoscopically unresectable Colorectal Neoplasms. Presented at American Society of Colon & Rectal Surgeons Tripartite Meeting; 2017 Jun 10-14; Seattle, WA.
Cavalea A, Benton D, Heidel E, Daley B, Lawson C, McLoughlin J. Pneumatosis intestinalis in patients receiving tube feeds. Presented at Southeastern Surgical Congress; 2017 Feb 25-28; Nashville, TN.
Top