The Department of Surgery
Alex W. Cantafio, MD, FACS
Assistant Professor
M4 Clerkship Director, Surgery
Division of Transplant Surgery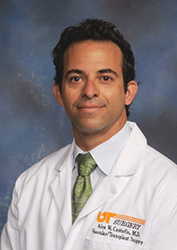 Clinical Focus
Kidney, Pancreas and Liver Transplantation, Hepato-Pancreatico-Biliary Surgery, Vascular Access
Research Focus
Vascular Access, Donation After Cardiac Death, Kidney Transplantation
Education
Medical School
Albert Einstein College of Medicine, Bronx, NY
Internship
General Surgery, Phoenix Integrated Surgical Residency, Phoenix, AZ
Residency
General Surgery, Phoenix Integrated Surgical Residency, Phoenix, AZ
Fellowship
Transplantation, University of Washington, Seattle, WA
Certification
American Board of Surgery
Professional Affiliations
American Hepatico Pancreatico Biliary Association
American Society of Transplantation
American Society of Transplant Surgery
The Henry N. Harkins Surgical Society
Current Publications
Boils CL, Aljadir DN, Cantafio AW.
Use of the PD-1 pathway inhibitor nivolumab in a renal transplant patient with malignancy. American Journal of Transplantation. 2016 Mar 14.
Current Presentations
Gregory LB, Grandas OH, Tayidi IT, Buckley MR, Arnold JA, Cantafio AW, Stevens SL, Freeman MB, Goldman MH, McNally MM. Contemporary clinical and financial analysis of open versus percutaneous mechanical thrombectomy for occluded hemodialysis access Presented at Southern Association of Vascular Surgery; 2018 Jan 16-20; Scottsdale, AZ.
Top