UT Center for Advanced Medical Simulation
Leonard H. Hines, MD
Assistant Professor
Co-Director, UT Center for Advanced Medical Simulation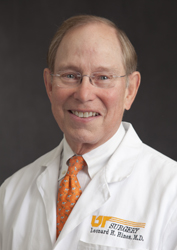 Education
Medical School
University of Tennessee Health Sciences Center Memphis, TN 1964

Internship
Rotating Internship Wilford Hall USAF Medical Center Lackland Air Force Base Lackland, TX 1965

Residency
General Surgery University of Tennessee Affiliated Hospitals Memphis, TN 1969-1973

Fellowship
Peripheral Vascular Surgery
O.B. Harrington, MD & Memphis, TN
Military Service
1963-1968 United States Airforce
Certification
American Board of Surgery, Diplomate General Vascular Surgery
Memberships
American College of Surgeons
Fellow American College of Surgeons
Tennessee Chapter American Medical Association
American Society of General Surgeons
Christian Medical and Dental Association
Church Health Center
Harwell Wilson Surgical Society
Memphis and Shelby County Medical Society
Memphis Surgical Society
Society for Clinical Vascular Surgery
Southeastern Surgical Congress, Fellow
Southern Association for Vascular Surgery
Southern Medical Association
Tennessee Medical Association
Association for Surgical Education
Society for Simulation in Health Care

Personal Statement
Prior to my becoming Co-Director of the Center for Advanced Medical Simulation in 2008, I practiced General and Vascular Surgery with Memphis Surgery Associates and was a Clinical Instructor in surgery at the University of Tennessee Health Science Center in Memphis. For multiple reasons, it became progressively apparent that the educational paradigm was shifting to include simulation as a necessary component of the curriculum. As I contemplated my continuing role in healthcare, the evolving and potential role of simulation in educating our healthcare professional became more fascinating. It would certainly translate into a more competent healthcare team and improved quality and safety of care for our patients. The reputation of the University of Tennessee Graduate School of Medicine, Knoxville, of being on the cutting edge of advancing educational techniques and the commitment to simulation were significant factors in the decision to shift my focus to this exciting approach to improving the quality of healthcare education and training. I believed that my previous experience as a practicing surgeon and clinical educator would provide a beneficial perspective and encouragement of colleagues to support the incorporation of simulation into the educational culture. Considering the already accepted benefits and the extent to which simulation is been embraced by those involved in education and training, our Center will evolve as a valuable asset to this medical community and the patients it serves.
Current Publications
Minami CA, Sheils CR, Bilimoria KY, Johnson JK, Berger ER, Berian JR, Englesbe MJ, Guillamondegui O, Hines LH, Cofer JB, Flum DR, Thirlby RC, Kazaure HS, Wren SM, O'Leary KJ, Thurk JL, Kennedy GD, Tevis SE, Yang A.
Process improvement in surgery. Current Problems in Surgery. 2016 Feb;53(2):62-96. Epub 2015 Nov 17.
Top