The Department of Radiology
Wendy Siman, PhD
Clinical Assistant Professor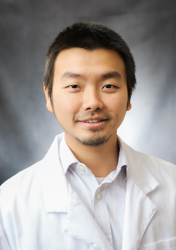 Education
Postgraduate
University of Texas M. D. Anderson Cancer Center, Houston, Research Assistant, 2012

Residency
University of Texas M. D. Anderson Cancer Center, Houston, CAMPEP - Accredited Imaging Physics/Nuclear Medicine Residency, 2010-2012

Graduate
University of Texas Health Science Center at Houston, 2012- 2016
Ph.D. in Medical Physics, 2016
Columbia University, New York, New York, 2008- 2009
M. S. in Medical Physics, 2009
Certification
American Board of Radiology (ABR) certification in Diagnostic Imaging, 2013-current
Honors
Arthur Weis Award in Radiation Dosimetry and Safety, co-authorfor "Biases and variability in partition model absorbed doses following 90Y microsphere therapy." Society of Nuclear Medicine and Molecular Imaging 2015 Conference
Current Publications
Siman W, Mikell JK, Mawlawi OR, Mourtada F, Kappadath SC.
Dose volume histogram-based optimization of image reconstruction parameters for quantitative (90) Y-PET imaging. Medical Physics. 2019 Jan;46(1):229-237. Epub 2018 Nov 27.
Siman W, Kappadath SC.
Comparison of step-and-shoot and continuous-bed-motion PET modes of acquisition for limited-view organ scans. Journal of Nuclear Medicine Technology. 2017 Dec;45(4):290-296. Epub 2017 Oct 17.
Siman W, Mawlawi OR, Mikell JK, Mourtada F, Kappadath SC.
Effects of image noise, respiratory motion, and motion compensation on 3D activity quantification in count-limited PET images. Physics in Medicine and Biology. 2017 Jan 21;62(2):448-464. Epub 2016 Dec 21.
Mikell JK, Mahvash A, Siman W, Baladandayuthapani V, Mourtada F, Kappadath SC.
Selective internal radiation therapy with Yttrium-90 glass microspheres: Biases and uncertainties in absorbed dose calculations between clinical dosimetry models. International Journal of Radiation Oncology, Biology, Physics. 2016 Nov 15;96(4):888-896. Epub 2016 Jul 27.
Siman W, Mikell JK, Kappadath SC.
Practical reconstruction protocol for quantitative (90)Y bremsstrahlung SPECT/CT. Medical Physics. 2016 Sep;43(9):5093.
Top