The Department of Radiology
Laura K. Findeiss, MD
Professor and Chair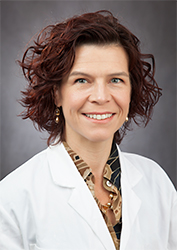 Clinical Focus
Vascular and Endovascular topics, image-guided treatment of vascular anomalies, and minimally invasive cancer interventions, including tumor ablation
Education
Medical School
University of Pittsburgh School of Medicine, Pittsburgh, PA, 1997
Residency
General Surgery Residency, UT Graduate School of Medicine, Knoxville, TN, 1997-1999
Diagnostic Radiology Residency, Virginia Mason Medical Center in Seattle, Washington, 2004
Fellowship
Vascular and Interventional Radiology, University of Washington Medical Center, Seattle, Washington, 2005
Certifications
American Board of Radiology - Diagnostic Radiology
American Board of Radiology - Vascular and Interventional Radiology
American Board of Vascular Medicine - Endovascular Medicine
Association of Registered Diagnostic Medical Sonographers - Vascular Interpretation
Honors and Awards
Elected Fellow of the Society of Vascular Medicine, 2015
Elected Fellow of the American Heart Association, Cardiovascular Radiology and Intervention Council Leadership Committee 2012
Elected Fellow of the Society of Interventional Radiology, Executive Council and Foundation Board of Directors, 2011

Professional Affiliations
American College of Radiology
Association of University Radiologists
American Heart Association
Society of Interventional Radiology
Society of Vascular Medicine
Association of Program Directors in Interventional Radiology
Radiological Society of North America
American Roentgen Society
Society of Chairmen of Academic Radiology Departments
Current Publications
Findeiss L, Spencer B, Ray CE Jr.
Diversity of thought. Seminars in Interventional Radiology. 2017 Mar;34(1):1-2.
Pasciak AS, Lin A, Georgiades C, Findeiss LK, Kauffman S, Bradley YC.
Computational simulation of the predicted dosimetric impact of adjuvant yttrium-90 PET/CT-guided percutaneous ablation following radioembolization. EJNMMI Research. 2016 Dec;6(1):89. Epub 2016 Dec 12.
Rosendorff C, Lackland DT, Allison M, Aronow WS, Black HR, Blumenthal RS, Cannon CP, de Lemos JA, Elliott WJ, Findeiss L, Gersh BJ, Gore JM, Levy D, Long JB, O'Connor CM, O'Gara PT, Ogedegbe O, Oparil S, White WB.
Treatment of hypertension in patients with coronary artery disease: A scientific statement from the American Heart Association, American College of Cardiology, and American Society of Hypertension. Journal of the American Society of Hypertension. 2015 Jun;9(6):453-98.
Current Presentations
Findeiss LK, Hamrick K, Nelson KJ. Vascular/Interventional Radiology Improvement Team for Analgesia and Sedation (VIRITAS): A data driven approach to creating a sedation safety screening process. Presented at Society of Interventional Radiology; 2017 Mar 4-9; Washington, DC.
Rumberger LK, Kolze C, Heidel RE, Himelright I, Spinell J, Findeiss L, Daley B. Improving the accuracy of CT scanning in the diagnosis of small bowel obstruction: To scan or not to scan…again? Presented at American College of Gastroenterology; 2015 Oct 16-21; Honolulu, HI.
Landman J, Chang A, Findeiss L, McKiernan JM. Comprehensive management of T1a renal cell carcinoma: A practical review to optimize patient treatment and outcomes. Presented at American Urological Association Annual Meeting; 2015 May 15-19; New Orleans, LA.
Top