The Department of Radiology
Paul D. Campbell, Jr., MD
Associate Professor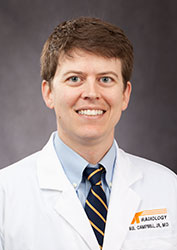 Education
Medical School
Johns Hopkins University School of Medicine, Baltimore, MD, 2003
Internship
Trasitional Medicine, York Hospital, York, PA, 2004
Residency
Diagnostic Radiology, Johns Hopkins Hospital, 2008
Fellowship
Neuroradiology, Johns Hopkins Hospital, 2009
Certifications
American Board of Radiology
CAQ Neuroradiology
Honors and Awards
Ned McWherter Scholar at the University of Tennessee, accompanied by a 4 year full scholarship
Phi Beta Kappa Honor Society
Phi Kappa Phi Honor Society
Golden Key National Honor Society
University of Tennessee Bicentennial Scholar
University of Tennessee Honors Program Graduate
2008-2009 Fellow Teaching Award, Awarded by the Radiology Residents of The Johns Hopkins Hospital
Professional Affiliations
American College of Radiology
American Society of Neuroradiology
Radiologic Society of North America
American Roentgen Ray Society
Current Presentations
Oler PR, Brown SJ, Campbell PD, Ferrell AS, Fox DR, Osborne DR. Reproducible MRI and radiographic criteria for grading cervical facet and disc degeneration. Presented at International Skeletal Society 43rd Annual Meeting; 2016 Sep 6-9; Paris, France.
Rogers JE, Campbell PD, Coulson PC. Head and neck manifestations of sarcoidosis: Multimodality imaging review. Presented at European Congress of Radiology; 2016 Mar 2-6; Vienna, Austria.
Layman MS, Campbell PD. Implanted spinal catheter tip granuloma mimicking an intradural meningioma: A case review with MRI, intraoperative, and pathologic correlation. Presented at American Society of Spine Radiology Annual Symposium; 2016 Feb 18-21; Bonita Springs, FL.
Kao J, Buzzeo M, Campbell PD. Can you hear me know? Congenital aural atresias and the CT predictors of surgical success. Presented at Radiological Society of North America; 2014 Nov 30 - Dec 5; Chicago, IL.
Liaw K, Francavilla M, Kao J, Laing GG, Campbell P. Super bowl Sunday, big dudes bashing brains and developing dementia - Overview on the evolution of intracranial hemorrhage on magnetic resonance imaging. Presented at Radiological Society of North America; 2013 Dec 1-6; Chicago, IL.
Top