The Department of Pathology
Yorke D. Young, MD
Assistant Professor
email: yyoung@utmck.edu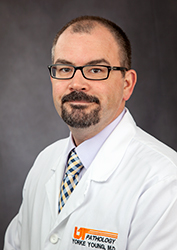 Clinical Focus
Surgical Pathology, Hematology/Coagulation
Education
Medical School
East Tennessee State University, James H. Quillen College of Medicine Johnson City, TN, 2005
Residency
AP/CP Pathology, Wake Forest University Baptist Medical Center, Winston-Salem, 2009
Fellowship
Hematopathology, Wake Forest University Baptist Medical Center, 2010
Certifications
American Board of Pathology - Anatomic and Clinical Pathology
American Board of Pathology - Hematopathology
Professional Affiliations
American Society for Clinical Pathology
College of American Pathologists, Junior member/ Resident delegate, 2007-2009
Society of Hematopathology
United States and Canadian Academy of Pathology

Current Presentations
Cochrane K, Young YD. Pneumoperitonium caused by a deadly mimicker of Crohn's disease. Presented at *Society of Hospital Medicine Annual Conference; 2020 Apr 15-18; San Diego, CA.
Cochrane K, Worth H, Mosley J, Young Y. Transformation of myelodysplastic syndrome to acute lymphoblastic leukemia: A case report. Presented at 17th International Conference on Cytopathology and Histopathology; 2019 Jul 26-27; Vancouver, Canada.
Cochrane K, Young YD. High-grade carcinoma arising from mature teratoma of the thymus. Presented at Canadian Association of Pathologists Annual Meeting; 2019 Jun 22-26; Niagara Falls, Canada.
Grimsley LB, Patel V, Young Y, McLoughlin J. A sarcomatous mimicker: A case of an intramuscular hemangioma. Presented at Southeastern Surgical Congress; 2018 Feb 10-13; Tampa, FL.
Top