The Department of Pathology
J. Michael McCoy, DDS
Professor
Departments of Pathology, Oral and Maxillofacial Surgery, and Radiology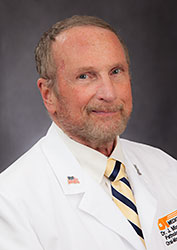 Clinical Focus
Benign and Malignant Tumors of the Head and Neck, Maxillofacial Radiology, TMJ Diseases, Hyperbaric and Underseas Medicine, Infections and Infectious Disease of the Head and Neck
Research Focus
Intratumoral Chemotherapy
Education
Dental School
DDS, West Virginia University, 1973
Residency
Oral and Maxillofacial Pathology, Medical University of South Carolina, Charleston, 1977
Oral and Maxillofacial Surgery, University of Tennessee Medical Center, Knoxville, 1985
Fellowship
Oral and Otolaryngologic Pathology, Armed Forces Institute of Pathology, Washington, DC, 1977
Oral and Otolaryngologic Oncology, Emory University Schools of Medicine and Dentistry, Atlanta, GA, 1978
Current Publications
Carlson ER, McCoy JM.
Margins for benign salivary gland neoplasms of the head and neck. Oral and Maxillofacial Surgery Clinics of North America. 2017 Aug;29(3):325-340.
McCoy JM, Oreadi D.
Diagnosis and management of pathological conditions. Journal of Oral and Maxillofacial Surgery. 2017 Aug;75(8S):e224-e263.
Current Presentations
McCoy J. Ulcerative lesions of the oral and perioral area. Presented at Second District Dental Society (Invited Lecture); 2019 Jul 18; Knoxville, TN.
Patel VM, McCoy JM. A rare presentation of Rosai-Dorfman disease. Presented at College of American Pathologists Annual Meeting; 2018 Oct 20-24; Chicago, IL.
McCoy JM, Han JT. Trauma abstract session (moderator). Presented at American Association of Oral and Maxillofacial Surgeons Annual Meeting; 2018 Oct 8-12; Chicago, IL.
Kozlovski CA, McCoy JM, Rasnake M. By the skin of his teeth. Presented at American College of Physicians (Invited Lecture); 2018 Oct 26-27; Chattanooga, TN.
Top