The Department of Pathology
Christopher T. Clark, MD
Associate Professor
email: CClark@utmck.edu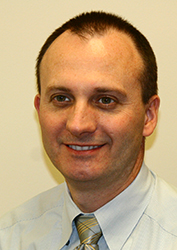 Clinical Focus
Surgical Pathology, Cytopathology and Transfusion Medicine
Education
Medical School
East Carolina University School of Medicine, Greenville, North Carolina, 1987-1991
Internship
Union Memorial Hospital, Baltimore, Maryland. Obstetrics and Gynecology, July 1991-June 1992
Residency
Anatomic and Clinical Pathology, University of Maryland Medical Center, Baltimore, Maryland, July 1992-June 1993
Anatomic and Clinical Pathology, The Mount Sinai Hospital of Cleveland, Cleveland, Ohio, July 1993-June 1996
Fellowship
Combined Surgical Pathology and Cytopathology, University Hospital of Cleveland, Case Western Reserve University, Cleveland, Ohio, July 1996-June 1997
Certification
American Board of Pathology, Anatomic and Clinical Pathology, 1997
Current Publications
Pasciak AS, Nodit L, Bourgeois AC, Paxton BE, Coan PN, Clark CT, Tolbert MK, Adams JK, Arepally A, Bradley YC.
How sensitive is the upper gastrointestinal tract to Yttrium 90 radioembolization? A histologic and dosimetric analysis in a porcine model. Journal of Nuclear Medicine. 2016 Jul 7. [Epub ahead of print]
Sarkar D, Kammona HA, Lamsen LN, McAbee BA, Clark CT, Lee SS, Kelley SE.
Photoletter to the editor: Diffuse cocaine-related purpura. Journal of Dermatological Case Reports . 2013 Dec 30;7(4):132-3.
Current Presentations
Clark CT, Rains AW. Patient blood management: Getting started. Presented at Tennesse Association of Blood Banks (Invited Lecture); 2016 May 13-14; Chattanooga, TN.
Chen J, Hurley EM, Clark CT. Use of tranexamic acid in elective orthopedic surgery: University hospital experience. Presented at Society for the Advancement of Blood Management Annual Meeting; 2015 Sep 24-26; Orlando, FL.
Dawane RV, Clark C. Transfusion of out of blood group platelets with high isohemagglutinin titers: Potential impacts of implementing a platelet titer screening program. Presented at AABB Advancing Transfusion and Cellular Therapies Worldwide Annual Meeting; 2014 Oct 24-28; Philadelphia, PA.
Top