The Department of Oral and Maxillofacial Surgery
Jack E. Gotcher, DMD, PhD
Professor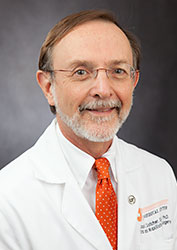 Clinical Focus
Orthognathic Surgery, Implant Surgery, Nerve Repair, Trauma Surgery
Research Focus
Mineralized Tissue Research, Bone Healing
Education
Dental School
D.M.D., Harvard School of Dental Medicine, 1975
Graduate School
Ph.D., Anatomy, University of Utah, 1978
Residency
Oral and Maxillofacial Surgery, University of Tennessee, Knoxville, 1978-1982
Certifications
Diplomate, American Board of Oral and Maxillofacial Surgery
Current Publications
Gerard DA, Carlson ER, Gotcher JE, Pickett DO.
Early Inhibitory Effects of Zoledronic Acid in Tooth Extraction Sockets in Dogs Are Negated by Recombinant Human Bone Morphogenetic Protein. Journal of Oral and Maxillofacial Surgery. 2014 Jan;72(1):61-6.
Current Presentations
Petree G, Foster M, Gotcher J. Case report: Local anesthetic induced hypoglossal nerve injury. Presented at American Association of Oral and Maxillofacial Surgeons Annual Meeting; 2014 Sep 8-13; Honolulu, HI.
Top
---
The University of Tennessee Graduate School of Medicine
1924 Alcoa Highway
Knoxville, Tennessee 37920 | 865-305-9290
Copyright © 2017