The Department of Oral and Maxillofacial Surgery
David A. Gerard, PhD
Professor
Research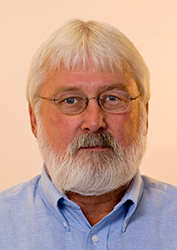 Research Focus
Electron microscopy
Education
Graduate School
M.S., Science Education, University of Tennessee, Knoxville, 1974
Ph.D., Cell Biology, University of Tennessee, Knoxville, 1980
Current Publications
Elkhenany H, Bourdo S, Hecht S, Donnell R, Gerard D, Abdelwahed R, Lafont A, Alghazali K, Watanabe F, Biris AS, Anderson D, Dhar M.
Graphene nanoparticles as osteoinductive and osteoconductive platform for stem cell and bone regeneration. Nanomedicine. 2017 Oct;13(7):2117-2126. Epub 2017 Jun 1.
Current Presentations
Gerard D, Carlson ER, Slocum K. Odontogenic ameloblast-associated protein expression in oral squamous cell carcinoma of the tongue. Presented at American Association of Oral and Maxillofacial Surgeons 97th Annual Meeting, Scientific Sessions & Exhibition; 2015 Sep 28 - Oct 3; Washington, DC.
Top
---
The University of Tennessee Graduate School of Medicine
1924 Alcoa Highway
Knoxville, Tennessee 37920 | 865-305-9290
Copyright © 2018