The Department of Obstetrics and Gynecology
Nirmala B. Upadhyaya, MD, MPH
Associate Professor
Obstetrics and Gynecology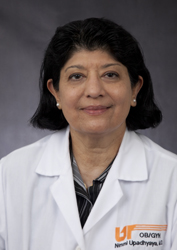 Education
Medical School
Bachelor of Medicine and Bachelor of Surgery, 1969-1975
Kurnool Medical College, Kurnool, India
Graduate School
Masters of Public Health, University of Tennessee, 1986-1987
Internship
Rotating, Govt. General Hospital, Kurnool, India, 1974-1975
Residency
Obstetrics and Gynecology, Govt. General Hospital, Kurnool, India, 1975-1978
Obstetrics and Gynecology, University of Tennessee Graduate School of Medicine, 1987-1991
Certification
American Board of Obstetrics and Gynecology
Current Presentations
Monaco A, Lenger S, Upadhyaya N, Heidel E, Kilgore L. Measuring change in student performance on laparoscopic anatomy quiz at beginning and end of obstetrics and gynecology rotation. Presented at Council on Resident Education in Obstetrics and Gynecology & Association of Professors of Gynecology and Obstetrics Annual Meeting; 2018 Feb 28 - Mar 3; National Harbor, MD.
Upadhyaya NB. Gestational diabetes mellitus diagnosis in elevated body mass index patients in pregnancy. Presented at 5th International Congress of Gynecology and Obstetrics (Invited Lecture); 2017 May 25-27; Prague, Czech Republic.
Bryant SB, Upadhyaya NB, Heidel RE, Hennessy M, Howard B Rodriguez H. Early diagnosis of gestational diabetes mellitus in patients with elevated body mass index. Presented at 63rd American Congress of Obstetricians and Gynecologists Annual Clinical and Scientific Meeting; 2015 May 2-6; San Francisco, CA.
Top