The Department of Obstetrics and Gynecology
Craig V. Towers, MD
Professor
Vice Chair, Research
Division of Maternal-Fetal Medicine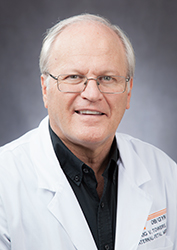 Research Focus
Dr. Towers has focused on Opioid Use Disorder (OUD) in the pregnant population. Detoxification and maintenance studies have proved to be an important undertaking in our region and have reduced the number of neonatal abstinence syndrome (NAS) babies in the neonatal intensive care unit at UTMC. Dr. Towers and his team are analyzing naltrexone, the implementation of long acting reversible contraception, the success of detoxification and newborn head size in chronically exposed neonates to opioid drugs that do not develop NAS, and the long-term outcome of NAS infants and mothers that fully detoxify. Other studies in this population include the measurement of levels of various other medications in neonatal cord blood and matching these with maternal levels (such as amphetamines, gabapentin and many of the antidepressant medications). He is also testing levels of buprenorphine and methadone in breastmilk. Studies outside of OUD include: evaluation of the safety of ibuprofen for short cervical lengths and pre-term contractions; perinatal transmission of Hepatitis C in pregnancy; the use of impedance cardiography in obese pregnant patients and patients with hypertension; and the increase in late preterm deliveries due to a lack of fetal lung maturity testing in Tennessee.
Education
Medical School
University of Kansas School of Medicine, Kansas City, KS
Internship
Wesley Medical Center, Wichita, KS
Residency
Wesley Medical Center, Wichita, KS
Fellowship
University of California, Irvine, CA
Certification
American Board of Obstetrics and Gynecology, Maternal-Fetal Medicine
Current Publications
Towers CV, Knapper A, Gaylord M, Burnette T, Neal R, Hennessy M.
Torticollis in infants with neonatal abstinence syndrome. Journal of Perinatology. 2020 Jan 6. [Epub ahead of print]
Kurdziel-Adams G, Macfie J, Kors S, Fortner KB, Towers CV, Lydic R.
Opioid use in pregnancy: Borderline features and hepatitis C virus. Personality Disorders. 2019 Nov 14. Available in PubMed: Dec. 2019. [Epub ahead of print]
Macfie J, Zvara BJ, Stuart GL, Kurdziel-Adams G, Kors SB, Fortner KB, Towers CV, Gorrondona AM, Noose SK.
Pregnant women's history of childhood maltreatment and current opioid use: The mediating role of reflective functioning. Addictive Behaviors. 2019 Oct 4;102:106134. Available in PubMed: Dec. 2019.
Gregory E, Towers CV, van Nes J, Shumard K, Fortner KB, Weitz B.
Fetomaternal bleeding and neonatal hematocrit following Cesarean delivery: Routine versus transplacental transection. AJP Reports. 2019 Jul;9(3):e298-e301. Epub 2019 Sep 19.
Towers CV, Katz E, Weitz B, Visconti K.
Use of naltrexone in treating opioid use disorder in pregnancy. American Journal of Obstetrics and Gynecology. 2020 Jan;222(1):83.e1-83.e8. Epub 2019 Jul 31.
Towers CV, Trussell J, Heidel RE, Chernicky L, Howard BC.
Incidence of maternal tachycardia during the second stage of labor: A prospective observational cohort study. The Journal of Maternal-Fetal & Neonatal Medicine. 2019 May;32(10):1615-1619. Epub 2017 Dec 10.
Towers CV, Hyatt BW, Visconti KC, Chernicky L, Chattin K, Fortner KB.
Neonatal head circumference in newborns with neonatal abstinence syndrome. Pediatrics. 2019 Jan;143(1). Epub 2018 Dec 10.
Top