The Department of Obstetrics and Gynecology
William P. Metheny, PhD
Professor
Designated Institutional Official (DIO) and Assistant Dean for Graduate Medical Education
Division of Education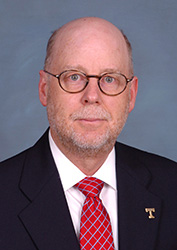 Education
Graduate School
Ph.D., Sociology of Education and Social Psychology, Michigan State University, E. Lansing, MI, 1997
Current Publications
Barlow PB, Skolits G, Heidel RE, Metheny W, Smith TL.
Development of the Biostatistics and Clinical Epidemiology Skills (BACES) assessment for medical residents. Postgraduate Medical Journal. 2015 Aug;91(1078):423-30. Epub 2015 Aug 7.
Metheny WP.
Timely completion of paperwork: are some residents consistently late responders? Journal of Graduate Medical Education . 2014 Jun;6(2):307-9.
Current Presentations
Metheny WP. The complete recipe for the annual institutional review: Essentials and enhancements. Presented at Accreditation of American Medical Colleges, Group on Resident Affairs Meeting; 2016 May 1-4; New Orleans, LA.
Metheny WP. DIO approaches to using NRMP match results for institutional evaluation. Presented at National Resident Matching Program Conference - Transition to Residency; 2015 Oct 1-3; New Orleans, LA.
Top
---
The University of Tennessee Graduate School of Medicine
1924 Alcoa Highway
Knoxville, Tennessee 37920 | 865-305-9290
Copyright © 2017