The Department of Obstetrics and Gynecology
Kristopher J. Kimball, MD
Associate Professor
Residency Program Director
Division of Gynecologic Oncology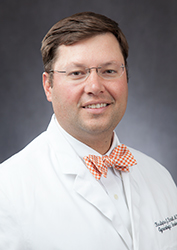 Education
Medical School
Vanderbilt University School of Medicine
Nashville, TN
Internship
University of Alabama School of Medicine
Birmingham, AL
Residency
University of Alabama School of Medicine
Birmingham, AL
Fellowship
University of Alabama School of Medicine
Birmingham, AL
Certification
American Board of Obstetrics and Gynecology
Current Publications
Jenny C, Kimball K, Kilgore L, Boone J.
Large cell neuroendocrine carcinoma of the endometrium: A report and review of the literature. Gynecologic Oncology Reports. 2019 May;28:96-100.
Current Presentations
Riedinger C, Harrington R, Kimball K, Polin M. Non-puerperal uterine inversion managed robotically. Presented at American Association of Gynecologic Laparoscopists; 2019 Nov 9-13; Vancouver, Canada.
Riedinger CJ, Riley WL, Scheiderer A, Orucevic A, Kimball KJ. Universal endometrial tumor testing is superior to clinical and age restricted tumor testing for the identification of Lynch syndrome. Presented at American College of Obstetrics and Gynecology Districts IV, VII & XI Annual Meeting; 2019 Sep 27-29; New Orleans, LA.
Scheiderer AN, Kimball KJ, Kilgore, LC, Snyder DH, Orucevic A. Heterogenous immunohistochemical staining pattern of mismatch repair proteins in endometrial cancer: Is it time to re-evaluate the guidelines? Presented at United States and Canadian Academy of Pathology Annual Meeting; 2019 Mar 16-21; National Harbor, MD.
Scheiderer AN, Kimball KJ, Kilgore LC, Snyder DH, Orucevic A. MSH6 mismatch repair protein immunohistochemical expression in endometrial cancer and Lynch syndrome: An academic institution 5 year experience. Presented at College of American Pathologists Annual Meeting; 2018 Oct 20-24; Chicago, IL.
Cochrane K, Kimball K, Orucevic A. Triple synchronous ovarian carcinomas: An unlikely association of serous carcinoma with large cell neuroendocrine carcinoma and granulosa cell tumor. Presented at European Society of Gynaecological Oncology Lyon State of the Art Conference; 2018 Oct 4-6; Lyon, France.
Schwirian K, Connor RS, Kimball KJ, Heidel RE, Adams SK, Lenger SM, Kilgore LC. Liposomal bupivacaine and pre-operative acetaminophen: Useful in minimally invasive surgery too? Presented at Society of Gynecologic Oncology 48th Annual Meeting on Women's Cancer; 2017 Mar 12-15; National Harbor, MD.
Zite N, Chuang A, Kimball K. The power of grit: Are you an educational superhero, YET? Presented at Association of Professors of Gynecology and Obstetrics and Council on Resident Education in Obstetrics and Gynecology Annual Meeting (Invited Lecture); 2017 Mar 8-11; Orlando, FL.
Top