The Department of Obstetrics and Gynecology
Kristopher J. Kimball, MD
Associate Professor
Associate Residency Program Director
Division of Gynecologic Oncology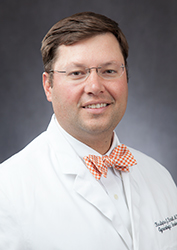 Education
Medical School
Vanderbilt University School of Medicine
Nashville, TN
Internship
University of Alabama School of Medicine
Birmingham, AL
Residency
University of Alabama School of Medicine
Birmingham, AL
Fellowship
University of Alabama School of Medicine
Birmingham, AL
Certification
American Board of Obstetrics and Gynecology
Current Publications
Connor RS, Dizon AM, Kimball KJ.
Loop electrosurgical excision procedure: An effective, inexpensive, and durable teaching model. American Journal of Obstetrics and Gynecology . 2014 Dec;211(6):706.e1-3.
Dizon AM, Kilgore LC, Kimball KJ, Grindstaff A, Winkler M.
High grade primitive neuroectodermal tumor of the uterus: A case report. Gynecologic Oncology Case Reports. 2013 Oct 19;7:10-2.
Current Presentations
Snyder D, Kimball K, Kilgore L, Orucevic A. Microsatellite instability in endometrial cancer. Presented at Pioneer Century Science 2nd Annual World Pathology Conference; 2016 Jun 18-19; Prague, Czech Republic.
Zite NB, van Nes JB, Kimball KJ. Speak up for patient safety: Team training to improve quality and safety. Presented at Association of Professors of Gynecology and Obstetrics, Martin L. Stone MD, Faculty Development Seminar; 2015 Jan 10-13; Palm Springs, CA.
Kimball K. HPV and cervical cancer prevention update. Presented at Knox Adolescent Pregnancy Prevention Initiative's Care Providers (Invited Lectureship); 2014 Jul 1; Knoxville, TN.
Top