The Department of Obstetrics and Gynecology
Jo M. Kendrick, MSN
Clinical Assistant Professor
Division of Maternal-Fetal Medicine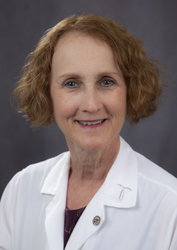 Education
Graduate School
Master of Science in Nursing, University of Tennessee, Knoxville, TN, 1992
Certification
Women's Health Nurse Practitioner
Published Books
Kendrick JM. Diabetes Care Before, During and After Pregnancy, 5th ed. New York, March of Dimes, 2015.
Current Publications
Coe DP, Conger SA, Kendrick JM, Howard BC, Thompson DL, Bassett DR Jr, White JD.
Postprandial walking reduces glucose levels in women with gestational diabetes mellitus. Applied Physiology, Nutrition, and Metabolism. 2018 May;43(5):531-534. Epub 2017 Dec 22.
Top
---
The University of Tennessee Graduate School of Medicine
1924 Alcoa Highway
Knoxville, Tennessee 37920 | 865-305-9290
Copyright © 2019