The Department of Obstetrics and Gynecology
Bobby C. Howard, MD
Associate Professor
Director, Maternal-Fetal Medicine
Division of Maternal-Fetal Medicine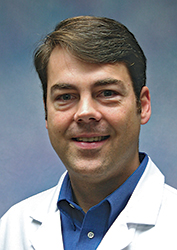 Education
Medical School
University of Alabama School of Medicine, Birmingham, AL, 1989-1993
Internship
Obstetrics and Gynecology, 1994
Carraway Methodist Medical Center, Birmingham, AL
Residency
Obstetrics and Gynecology, 1995 - 1997
University of Alabama School of Medicine, Birmingham, AL
Fellowship
Maternal-Fetal Medicine Fellowship, 2001 - 2004
Madigan Army Medical Center, Tacoma, WA
Certification
American Board of Obstetrics and Gynecology
Current Publications
Coe DP, Conger SA, Kendrick JM, Howard BC, Thompson DL, Bassett DR Jr, White JD.
Postprandial walking reduces glucose levels in women with gestational diabetes mellitus. Applied Physiology, Nutrition, and Metabolism. 2017 Dec 22. [Epub ahead of print]
Towers CV, Trussell J, Heidel RE, Chernicky L, Howard BC.
Incidence of maternal tachycardia during the second stage of labor: A prospective observational cohort study. The Journal of Maternal-Fetal & Neonatal Medicine. 2017 Nov 28:1-11. [Epub ahead of print]
Towers CV, Yates A, Zite N, Smith C, Chernicky L, Howard B.
Incidence of fever in labor and risk of neonatal sepsis. American Journal of Obstetrics and Gynecology. 2017 Jun;216(6):596.e1-596.e5. Epub 2017 Feb 16.
Current Presentations
Towers CV, Katz E, Liske E, Howard B, Wolfe L, Fortner K. Psychosocial background of pregnant women with opiate use disorder (OUD). Presented at Society for Maternal-Fetal Medicine 38th Annual Meeting; 2018 Jan 29 - Feb 3; Dallas, TX.
Reeder CF, Klar ML, Berendzen JA, van Nes JB, Howard BC, Zite NB. Fire in labor and delivery: Simulation case scenario. Presented at Tennessee Simulation Alliance Annual Conference; 2017 Nov 16-17; Memphis, TN.
Lenger SM, Towers CV, Spires B, Chattin K, Smith C, Wolfe L, Howard BC. Accuracy of the lamellar body count fetal lung maturity test. Presented at Central Association of Obstetricians and Gynecologists Annual Meeting; 2016 Oct 26-29; Las Vegas, NV.
Yates A, Towers CV, Zite N, Smith C, Chernicky L, Howard BC. Incidence of chorioamnionitis and risk of neonatal infection. Presented at The Central Association of Obstetricians and Gynecologist 82nd Annual Meeting; 2015 Oct 21-24; Charleston, SC.
Top