News and Events
UTGSM Celebrates Match Day 2023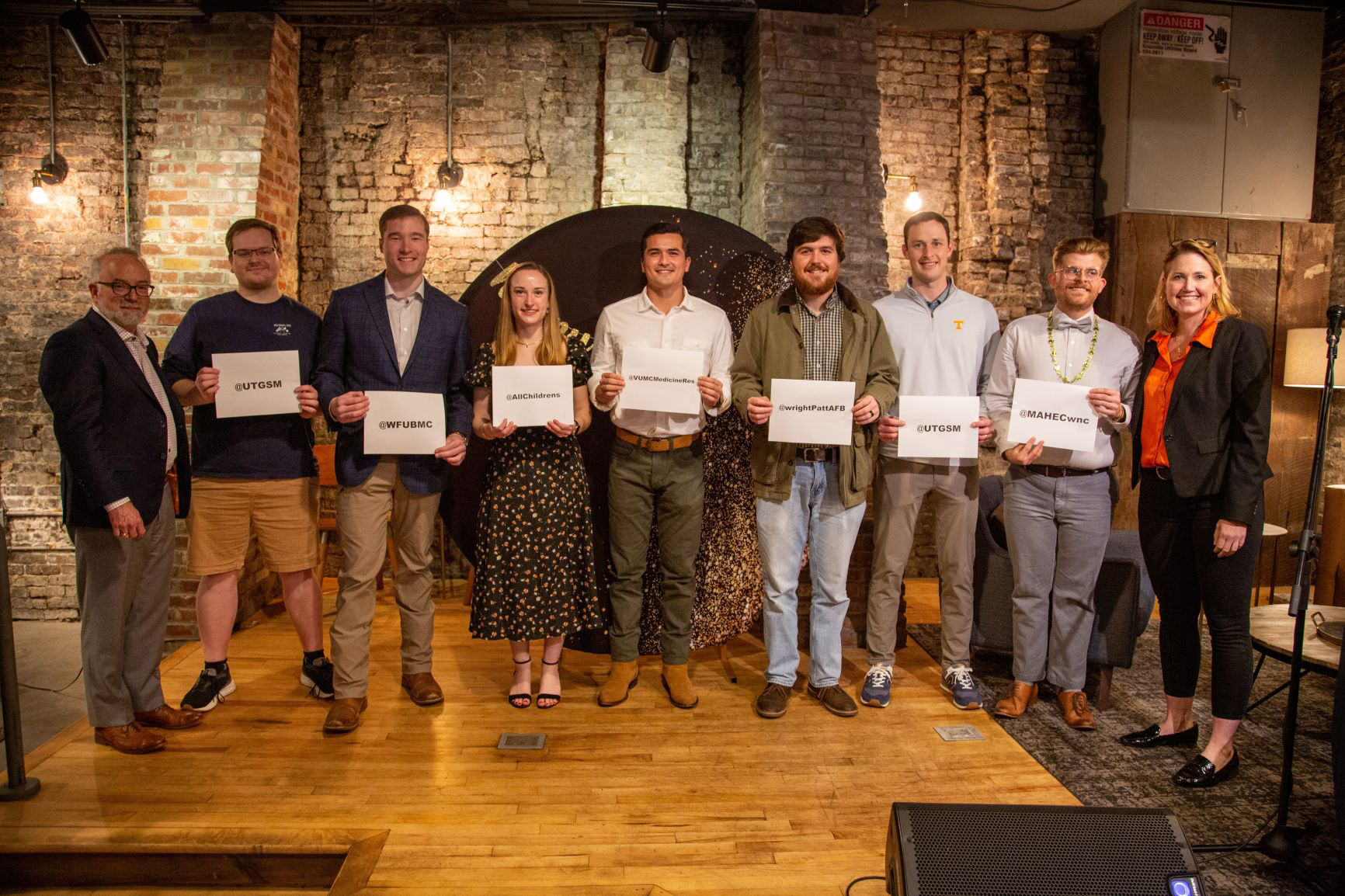 Seven Knoxville designated University of Tennessee Health Science Center (UTHSC) College of Medicine fourth-year medical students gathered with members of the University of Tennessee Graduate School of Medicine (UTGSM) Dean's staff on March 17, 2023, to celebrate "Match Day." This year the students open their "Match Day" letters at exactly 12:00 pm EST while celebrating with family and friends at Maple Hall. Issued by the National Residency Matching Program (NRMP), these letters revealed the specialty programs and locations where each student will begin their residency training after graduation from medical school.
"Opening my letter was a serene moment, an emotion seldom felt in the last four years. All the stressors and hard work leading up to this milestone finally felt purposeful," said UTHSC medical student, Wrinn Alexander. "Match Day was even more memorable when celebrating with everyone who was pivotal to our success. Close friends and family along with colleagues and attendings under one roof felt like worlds were colliding, all of whom made this moment possible. I spent the entirety of my clinical years at the University of Tennessee Medical Center and formed lifelong friendships in the process. This faculty has felt more like family, and I hope they view my match as a reflection of their success as mentors. Go Vols!"
Another UTHSC medical student, Drew Wofford, who matched at the UTGSM Department of Urology stated, "Opening the match day letter is a surreal and awesome experience. The culmination of the years of hard work to reach that pivotal moment is overwhelming, but so exciting at the same time! I couldn't be happier to continue my urology training here in Knoxville and join the UTGSM family."
Match Day, which always takes place on the third Friday of March, is a nationwide event for students graduating from an MD or DO program, sponsored by the NRMP. It was established in 1952 to standardize the process of matching medical students with residency programs. According to the official press release from the NRMP, this year was the largest Match in the NRMP's 70-year history. Nine of the 161 UTHSC fourth-year medical students who matched will attend UTGSM to complete their residencies.
Match Day is a significant event in the lives of medical students, representing the next step in their journey towards becoming licensed physicians. It is filled with emotion and excitement as students discover where they will be spending the next few years of their lives in residency training. "The faculty and staff of the UTGSM are proud to celebrate Match Day with our Knoxville based UTHSC students. It is a momentous day in the life of these medical students, and it is a privilege to share in their joy. Each one of them chose us as their academic home two years ago when they first started their Clerkships. Today we get to honor that choice by being with them as open their letters and embark on what is next," said Dr. Johnson, Interim Assistant Dean for Undergraduate Medical Education at UTGSM.
UTHSC medical students participating in this year's Match celebration in Knoxville were:
Wrinn Alexander - Vanderbilt University Medical Center - Internal Medicine
Charles Blue - UT Graduate School of Medicine (Knoxville) - Pathology
Lee Gore - Wright Patterson Air Force Base - General Surgery
John Little - Wake Forest Baptist Medical Center - Surgery - Preliminary
Chad Owens - Mountain AHEC (NC) - Family Medicine
Emily Pabst - John Hopkins All Children's Hospital - Pediatrics
Drew Wofford - UT Graduate School of Medicine (Knoxville) - Urology
Posted: March 30, 2023
Top
---