News and Events
Anesthesiology Fellowship Augments Clinical Practice with Management Skills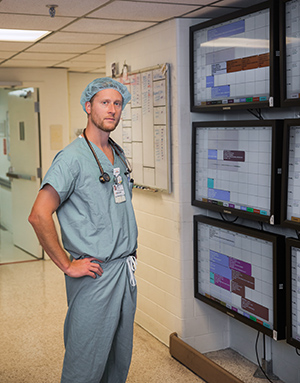 The Department of Anesthesiology offers a Perioperative Medicine Fellowship in partnership with The University of Tennessee Knoxville's Haslam College of Business. In addition to advancing their clinical practice related to the non-surgical care of patients from the time surgery is considered through full recovery, fellows complete the Physician Executive MBA (PEMBA) program. PEMBA is a pre-eminent, nationally ranked MBA program exclusively for physicians seeking leadership, management and business skills. With regard to advancing their clinical practice, fellows can enrich any aspect of clinical practice via a customized curriculum, including advanced regional anesthesia and echocardiography.
Robert M. Craft, MD, Chair of Anesthesiology and Fellowship Program Director said, "My personal experience with the Physician Leadership Academy through UT's College of Business in 2012 led to the conviction that all physicians need finance and management basic knowledge and vocabulary. This fellowship is an extension of that conviction while also providing the fellow a rich clinical experience as a supervising faculty in a Level 1 Trauma Center."
The program goals include learning to supervise other anesthesia providers and developing as healthcare managers. In addition to week-day clinical experience as an Anesthesiology faculty member at The University of Tennessee Medical Center and participation in the PEMBA program, there are seminars designed to develop understanding on the business aspects of a medical practice, perioperative service and larger healthcare institution. The 18-month fellowship also includes an Organizational Action Project, which must be implemented within the department.
Current fellow and Anesthesiology Residency Alumnus Patrick McFarland, MD, said he is in the brainstorming phase of his project. His initial ideas include projects to address opioid abuse related to surgeries or a project to improve performance and quality through a secondary intraoperative monitoring system.
"I completed a political affairs rotation in Washington D.C. researching and discussing opioid abuse with several congressmen and women," Dr. McFarland said. "I would draw on that work to complete a project to reduce reliance on opioids in the perioperative period or to do a community-wide pilot project that would help patients receive treatment for opioid abuse and addiction in order to prevent relapse and repeat surgeries related to opioid abuse disorder.
"Or, I may do a project on improving perioperative performance and quality control through a secondary intraoperative monitoring system similar to an air traffic control tower for all operating rooms."
Dr. McFarland said that through the fellowship he hopes to improve the quality and safety of patient care at the medical center.  "I have always been an advocate of patient safety and quality care, and I hope this fellowship will continue to strengthen those aspects."
Dr. McFarland will be the second graduate of the program. Beginning in 2016, Micah Hatch, MD, also an Anesthesiology Residency Alumnus, was the first fellow in the program and now practices in Nashville, Tennessee.
Posted October 10, 2018