News and Events
Dr. Gaylord Named UTHSC Outstanding Alumnus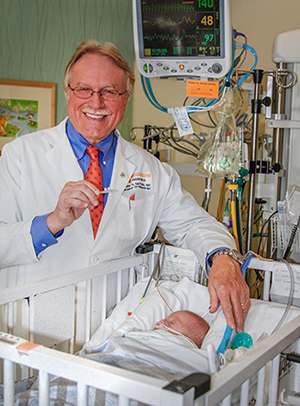 Mark Gaylord, MD, Professor and Director of Neonatology, was one of five distinguished alumni honored during the University of Tennessee Health Science Center' s (UTHSC) College of Medicine's Outstanding Alumni Awards luncheon. Dr. Gaylord completed his medical degree at UTHSC in 1978. His primary interest was in children's health, and he was named the Outstanding Pediatric Student by the college. His academic record was one of consistent excellence, resulting in membership in the Alpha Omega Alpha Honor Medical Society.
Following his graduation from UTHSC, he received a pediatric residency and neonatal-perinatal fellowship training at the University of Colorado Health Sciences Center, now known as the University of Colorado Anschutz Medical Campus. Upon completion, the University of Colorado immediately offered him a job as attending neonatologist and clinical instructor. After two years, he was recruited to join a burgeoning neonatal practice at the University of Tennessee, Knoxville.
Dr. Gaylord has worked for more than 30 years in the Newborn Intensive Care Unit (NICU) of the University of Tennessee Medical Center in Knoxville, and currently serves as the medical director for the NICU.
He is a tireless advocate, fighting the political battles for fair and equitable health care for all patients. In addition to his responsibilities as a clinician, Dr. Gaylord has been a professor for over 30 years. He is a full professor of pediatrics in the UT Graduate School of Medicine. He has been a member of the UTHSC College of Medicine's Knoxville campus faculty since 1986.
Dr. Gaylord is interested in new clinical research that could potentially benefit his patients. Two of his major contributions have been in developing a new type of incubator that improves the tiniest premature infant's microenvironment and working with the late Dr. Forrest Bird, inventor of the first baby ventilator, in developing one of the first high frequency ventilators. This new incubator is standard in most NICUs in the United States and the ventilator helped change the way babies with lung disease are treated.
Beyond his responsibilities for direct patient care and teaching, Dr. Gaylord has statewide responsibilities in administration through the Tennessee Perinatal Advisory Committee and Tennessee Initiative for Perinatal Quality Care. He has served important roles with the March of Dimes, the Ronald McDonald House, American Academy of Pediatrics, Healthy Families, Tennessee Perinatal Association and National Perinatal Association (for which he served as president from 2001-2002). He investigated and promoted the testing processes for detecting newborn hearing loss. These infant hearing tests are now part of the universal newborn screening in Tennessee and throughout the United States.
Dr. Gaylord has served as a member of the UTHSC COM Alumni Council since 2005, and he has been given the University Health System Philanthropy Award by the Great Smoky Mountain Chapter of the Association of Fundraising Professionals for his work on behalf of UTHSC.
Posted November 29, 2017