News and Events
Comedy for a Cause Raises Gynecologic Cancer Awareness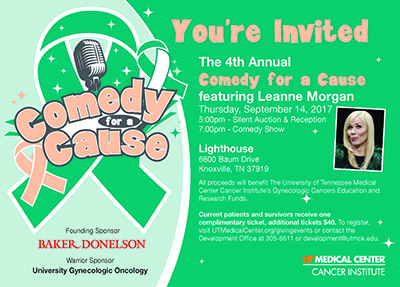 Gynecologic oncology faculty Larry Kilgore, MD, Chair of Obstetrics and Gynecology, and Kristopher Kimball, MD, Associate Residency Program Director, help raise awareness for gynecologic cancers and the importance of laughter in healing through annual sponsorship of Comedy for a Cause.
The Fourth Annual Comedy for a Cause features comic Leanne Morgan and is hosted by The University of Tennessee Medical Center. Since its inception in 2014, Comedy for a Cause has brought together nearly 1,000 women and family members who share a common bond — they've all been touched by a gynecologic cancer diagnosis.
"When we first started this fundraiser four years ago, we had no idea the impact it would have on so many women and their families," said LeAnn Mynatt. Mynatt's law firm, Baker Donelson, has supported this initiative from day one as the Founding Sponsor for Comedy for a Cause.
The event has grown year after year as more individuals are inducted into this society no one seeks. The University Gynecologic Oncology team of Dr. Larry Kilgore and Dr. Kristopher Kimball, understanding the impact of sharing an evening of laughter with those who are facing a similar journey of a gynecologic cancer diagnosis, are also sponsors of the event to ensure this evening of fellowship continues for many years to come.
"It's never easy to look someone in the eye to tell them they have cancer, but we are constantly inspired by the strength of our patients and their families," Dr. Kilgore said. "Supporting Comedy for a Cause and being part of this night of camaraderie is something we look forward to every year."
"Comedy for a Cause continues to gain momentum in raising funds to support the Gynecologic Cancers Education and Research Fund," Dr. Kimball continued. "Our hope is that business and philanthropic leaders in Knoxville recognize the impact this event has on so many people in our community, and join us as corporate partners."
A special addition to this year's event includes the introduction of Jonathan Boone, MD, who is joining the University Gynecologic Oncology practice in August. Dr. Boone recently completed his fellowship in Gynecologic Oncology at The University of Alabama at Birmingham – the same institution that Drs. Kilgore and Kimball came from prior to building the Division of Gynecologic Oncology at the UT Cancer Institute. Dr. Boone is a graduate of UT Knoxville and received his Doctor of Medicine from The University of Tennessee Health Science Center in Memphis.
Comedy for a Cause includes a silent auction, heavy hors d'oeuvres, cocktails and a comedy show featuring Leanne Morgan. This year's event takes place at the Lighthouse on Thursday, Sept. 14 at 5:00 p.m. Current patients and survivors receive one complimentary ticket, additional tickets are $40.
To register, visit www.UTMedicalCenter.org/givingevents or contact the Development Office at 305-6611 or development@utmck.edu. (Space is limited. All attendees must register or buy tickets in advance. All tickets are reserved on a first-come, first-serve basis).
Posted September 5, 2017