News and Events
U.S. News & World Report Recognizes Medical Center as Best Hospital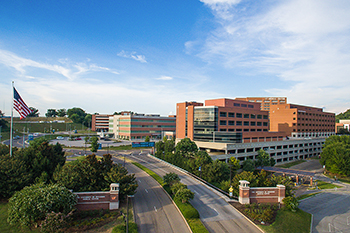 The University of Tennessee Medical Center has earned recognition for the sixth consecutive year in the "Best Hospitals" edition of U.S. News & World Report. The 2017-2018 report ranks the medical center No. 2 in the state of Tennessee and as best regional hospital in the Eastern Tennessee region, based on its patient care performance and other key factors. Two adult care specialties at the medical center, Pulmonology and Nephrology, received national recognition, deemed by the publication as high performing services.
The report additionally lists The University of Tennessee Medical Center as high performing in all nine of the Common Adult Procedures and Condition Ratings assessed in the survey:
Abdominal Aortic Aneurysm Repair
Aortic Valve Surgery
Heart Bypass Surgery
Heart Failure
Colon Cancer Surgery
Chronic Obstructive Pulmonary Disease (COPD)
Hip Replacement
Knee Replacement
Lung Cancer Surgery
"Our physicians and team members recognize that we must continue to improve and advance our care capabilities daily on behalf of our patients and the community," said Joe Landsman, president and CEO of The University of Tennessee Medical Center. "It's an honor to receive recognition in U.S. News Best Hospitals, because this highly credible independent assessment validates the compassion, care and talent of our outstanding healthcare providers and team members, as well as the contribution they make for those we serve."
Because of its independent analysis, the annual ranking by U.S. News is considered as an unbiased source for determining safety and quality in the medical field. Now in its 28th year, the Best Hospitals report recognizes hospitals that excel in treating patients facing the greatest health challenges. The information is designed to help patients make informed decisions about where to receive care for life-threatening conditions or for common elective procedures.
The rankings from the annual report were produced by U.S. News with nationally recognized research firm RTI International. The methodologies include risk-adjusted survival and readmission rates, volumes, patient experience, patient safety, quality of nursing care and other care-related indicators.
"For nearly three decades, we've strived to make hospital quality more transparent to healthcare consumers nationwide," said Ben Harder, managing editor and chief of health analytics at U.S. News. "By providing the most comprehensive data available, we hope to give patients the information they need to find the best care across a range of specialties."
For the 2017-2018 report, U.S. News evaluated more than 4,500 medical centers nationwide in 25 specialties. The "Best Hospitals 2018" guidebook is scheduled to be published in late August. Visit Best Hospitals for more information about the rankings.
Posted August 8, 2017