News and Events
Dr. W. Bedford Waters Named First Chair of Urology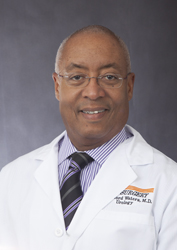 W. Bedford Waters, MD, has been named the first Chair of the new Department of Urology at the University of Tennessee Graduate School of Medicine, taking effect July 1. Urology began as a division of the Department of General Surgery in 1983 and initiated its Urology Residency Program in 2004.
Dr. Waters is highly regarded in his field. He has contributed to medical education for more than 36 years and been teaching at the UT Graduate School of Medicine since 2001. He is a Professor and has been serving as Division Chief and Residency Program Director since 2014.
Dr. Waters is a trustee emeritus of the American Board of Urology, Inc., serving as its president from 2008 to 2009, secretary-treasurer, chairman of the executive committee, chairman of the finance committee, and chairman of the recertification committee during his tenure on the ABU from 2003 to 2012.
In addition to the American Board of Urology, Dr. Waters has served as the president of many regional and national organizations, including the Chicago Urological Society (1995), the Illinois State Urological Society (2000) and the urology section of the National Medical Association (1996-1998), while also serving on the executive committees of the Society of Urologic Oncology and the Society of University Urologists.
From 1995 to 1999, he participated as a member of the examination committee of the American Board of Urology, Inc. Dr. Waters was elected as an Active Member of the prestigious American Association of Genitourinary Surgeons in 2008 and was elected as a Fellow at the April 2013 meeting.
More recently, Dr. Waters was elected as a physician member to the University Health Systems, Inc. Board of Directors in July 2015. He was also recently elected as President-Elect to the Vanderbilt Medical Alumni Association Board of Directors.
Dr. Waters has been featured in the U.S. News and World Report of top USA physicians as one of four top physicians in the state of Tennessee, and in 2012, he was recognized by Worldwide Who's Who for his dedication, leadership and excellence in medical education.
Dr. Waters received his medical degree from Vanderbilt University. He completed two years of residency in general surgery at the University of California San Diego followed by the Harvard Urologic Surgery Residency Program in Boston, Massachusetts.
James Neutens, PhD, Dean, said, "The creation of the new Department of Urology recognizes its faculty and residency program as national leaders, and, as chair, Dr. Waters will continue to advance our mission of excellence in healing education and discovery."

Posted June 22, 2017