News and Events
Dr. Matthew Mancini Named TMA President-Elect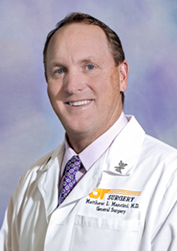 The Tennessee Medical Association, the state's largest professional organization for physicians, has announced that Matthew Mancini, MD, FACS, Associate Professor and Chief of Surgery's Division of General Surgery, has been named 2017 President-Elect.
Dr. Mancini has been a member of TMA since 1999. He has served on the TMA Board of Trustees, the Membership Committee and the Continuing Medical Education Advisory Committee. He is also a graduate of TMA's John Ingram Institute for Physician Leadership. Locally, Dr. Mancini is president of the Knoxville Academy of Medicine and serves as governor of the KAM Foundation.
Dr. Mancini received his medical degree from Mercer School of Medicine in 1994 followed by his General Surgery Residency with the UT Graduate School of Medicine from 1994-1999. Upon graduating from his residency, he joined the Graduate School of Medicine faculty and began practicing with University Surgical Associates, PC.
Posted June 15, 2017
Top
---
The University of Tennessee Graduate School of Medicine
1924 Alcoa Highway
Knoxville, Tennessee 37920 | 865-305-9290
Copyright © 2018