News and Events
Dr. Dougherty Exemplifies a Health Care Hero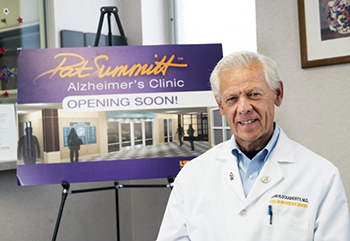 John Dougherty, MD, Associate Professor of Medicine's Division of Neurology, was named a 2016 Health Care Hero by the Knoxville Business Journal for Innovation in the medical field. Dr. Dougherty has dedicated his life to battling neurological disorders, including more than 30 years of treating patients at The University of Tennessee Medical Center. He's been a leader in their treatment and in providing family caregiver support for those facing Alzheimer's disease and other memory disorders. As stated in the Knoxville News Sentinel article on Dr. Dougherty's recognition, "When it comes to the war on Alzheimer's, Knoxville is a battleground and Dr. John H. Dougherty Jr. is a general."
Dr. Dougherty has cared for more than 30,000 patients during his career. He was fundamental in the creation of the Cole Neuroscience Center, the only Neurology sub-specialty center of its kind in the region. He helped establish the Brain and Spine Institute, a Center of Excellence at the medical center, where he is medical director, and Dr. Dougherty is currently helping to launch the Pat Summitt Alzheimer's Clinic.
While Alzheimer's disease does not have a cure, Dr. Dougherty has found early detection is key to more effective treatment for Alzheimer's disease and other forms of cognitive impairment. He, with a team, create a self-assessment known as CST - computerized self test - to help identify cognitive issues at an early stage.
Read more about Dr. Dougherty's award and career in the Knoxville News Sentinel.
Posted December 6, 2016
Top
---
The University of Tennessee Graduate School of Medicine
1924 Alcoa Highway
Knoxville, Tennessee 37920 | 865-305-9290
Copyright © 2023