News and Events
National Library of Medicine Exhibit Comes to Preston April 11-May 21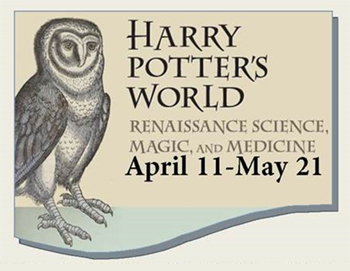 In partnership with the History of Medicine Division of the National Library of Medicine, The Health Information Center-Preston Medical Library will host a traveling exhibition: Harry Potter's World: Renaissance Science, Magic, and Medicine. The exhibit can be viewed during library hours April 11-May 21.
In 1997, British author J.K. Rowling introduced the world to Harry Potter and a literary phenomenon was born. Although a fantasy story, the magic in the Harry Potter books is partially based on Renaissance traditions that played an important role in the development of Western science and medicine.
Incorporating the work of several 15th & 16th century thinkers, this exhibit examines important ethical topics such as the desire for knowledge, the effects of prejudice, and the responsibility that comes with power.
Exhibit information can be found online: https://www.nlm.nih.gov/exhibition/harrypottersworld/index.html.
The following Harry Potter scholars will give presentations during this exhibit.
April 20 from 5-6 p.m.: Amy Billone, English Professor at the University of Tennessee, "Harry Potter and the Nineteenth-Century Dream-Child"
April 27 from 5-6 p.m.: Jake Hamric, History Professor at Pellissippi State Community College, "Harry Potter, Higher Education, and Popular Culture"
Both presentations will be held in the conference room at the Health Information Center-Preston Medical Library at The University of Tennessee Medical Center. All events are free and open to the public. Complimentary parking is available. For more information, contact Kelsey Leonard at 865-305-5707. This exhibition was developed and produced by the National Library of Medicine, National Institutes of Health.
Posted April 4, 2016
Top
---