News and Events
Dr. Lydic Discusses Sleep at UT Science Forum February 19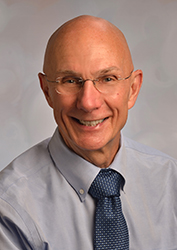 Ralph Lydic, PhD, Cole Professor of Neuroscience in the Departments of Psychology and Anesthesiology, will speak on "Sleep: Neuroscience, Medicine, and Society" on February 19, from noon to 1 p.m. during the University of Tennessee Science Forum in Thompson-Boling Arena Dining Room C-D.
The oldest cave art dates to about 40,000 years ago suggesting that humans at that time already possessed secondary consciousness and dreaming cognition. The first physiological evidence, however, for the existence of a dreaming phase of sleep did not appear until 1953. This UT Science Forum talk will highlight neuroscience evidence showing that sleep, like breathing, is actively generated by the brain and not the passive loss of wakefulness. Sleep is often devalued as a state of consciousness, yet normal sleep is as essential to health as is nutrition. Virtually everyone has a family member who experiences disordered sleep to some degree. Sleep disorders medicine will be highlighted as a vibrant, medical specialty. Learn more in a Quest feature, "Going Under."
The Science Forum is free and open to the public. Location: Thompson-Boling Arena Dining room C-D. Bring your lunch or purchase it from the Arena. More information on future lectures at: http://scienceforum.utk.edu/.
Posted February 16, 2016
Top
---
The University of Tennessee Graduate School of Medicine
1924 Alcoa Highway
Knoxville, Tennessee 37920 | 865-305-9290
Copyright © 2023