News and Events
Medical Center Holds Health Literacy Forum November 9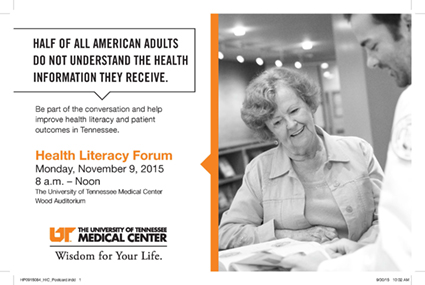 Statistics show that half of American adults cannot understand or act on the health information they receive. With health literacy as an important area of concern, health care professionals, educators, librarians, government officials and business leaders will participate in a Health Literacy Forum on Monday, November 9, from 8 a.m. to noon at The University of Tennessee Medical Center. The community is invited to be part of the conversation.
The forum will focus on one of the goals of the U.S. Department of Health and Human Services' National Action Plan to Improve Health Literacy: "To promote changes in the health care delivery system that improve health information, communication, informed decision-making, and access to health service."
Nationally recognized health literacy advocate, Cynthia Baur, PhD, Senior Advisor for Health Literacy and Plain Language with the Centers for Disease Control and Prevention, will be the keynote speaker and address "The Importance of Health Literacy and its Consequences for Patient Health." Other topics to be examined include
State Government Policies and Initiatives to Advance Health Literacy with David Reagan, MD, PhD, Chief Medical Officer for the Tennessee Department of Health
Inter-professional Collaborations and Best Practices in Patient Education to Improve Medication Adherence with Andrea Franks, PharmD, BCPS, UT Health Science Center College of Pharmacy and UT Medical Center; and Hamilton Borden, PharmD, Blount Discount Pharmacy and UT Health Science Center College of Pharmacy.
Strategies for Health Information and Library Professionals to Improve Patient Engagement and Communication with Terri Ottosen, MLIS, AHIP, Consumer Health Coordinator, National Network of Libraries of Medicine, Southeastern Atlantic Region.
The half-day forum is free, but registration is required by calling 865-305-9525 or by visiting online at utmedicalcenter.org/events. On the calendar, go to November 9, click on the class and the registration form will appear.
For more information contact Sandy Oelschlegel, UT Medical Center Health Information Center, at soelschl@utmck.edu or 865-305-952.
Posted October 26, 2015
Top
---