News and Events
Dean Announces Larry C. Kilgore, MD as Chair of Obstetrics and Gynecology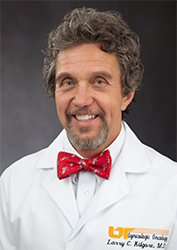 Dean James Neutens, PhD, announced today that Larry C. Kilgore, MD has been named chair of the Department of Obstetrics and Gynecology at the University of Tennessee Graduate School of Medicine (UTGSM), Knoxville. Kilgore joined the UTGSM faculty in 2009 and is currently professor and director of Gynecologic Oncology. He has been serving as interim chair of the Department since February 2014.
Dr. Kilgore's expertise in gynecologic oncology is nationally recognized. He began his career at the University of Alabama Birmingham (UAB) Hospital, following residency and a Gynecologic Oncology Fellowship at UAB School of Medicine. During his 20-year tenure as faculty at UAB, Dr. Kilgore served as professor and held the J. Max Austin Endowed Chair in the Division of Gynecologic Oncology. He also was a senior scientist for the UAB Comprehensive Cancer Center, fellowship director for Gynecologic Oncology, and residency program director in the Department of Obstetrics and Gynecology. Dr. Kilgore also participated on numerous national committees and task forces and served as a board examiner for the American Board of Obstetrics and Gynecology, a role he has continued.

His research on women's cancers has focused on safer and improved treatments for ovarian and cervical cancer, and several of his studies have been supported by grants from the National Cancer Institute totaling more than $7 million. Dr. Kilgore's research has been published more than 100 times and presented nationally at numerous meetings. Dr. Kilgore has served the editorial board of Gynecologic Oncology, an international journal, and also has served as an editorial reviewer on several journals including Cancer – Journal of the American Cancer Society, The American Journal of Medicine, the Journal of Reproductive Medicine, American Journal of Obstetrics and Gynecology, and Journal of Surgical Oncology.

Dr. Kilgore's commitment to education and leadership extends beyond residency training. He is an inaugural member on our Academy of Scholars. He also completed the inaugural Physician Leadership Academy, a year-long education program provided by the Executive Education Program of the UT College of Business Administration. As chair, Dr. Kilgore plans to promote resident and medical student education, focus on faculty development, enhance clinical research in women's healthcare, and advance safety and quality health outcomes for the women of East Tennessee and The University of Tennessee Medical Center.
In 2009, Dr. John Bell, Director of the UT Cancer Institute, recruited Dr. Kilgore to be the leading physician in gynecologic oncology services, specifically to fill a need in minimally invasive and robotics procedures. Dr. Kilgore has established a presence in the community for his commitment to healing, and through his leadership, he will provide in education and discovery as chair of the Department of Obstetrics and Gynecology.
Posted July 24, 2015
Top
---