News and Events
Bradley Selected as Top Reviewer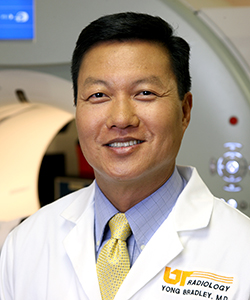 The American Journal of Roentgenology (AJR) has selected Yong Bradley, MD, as a top manuscript reviewer. AJR has more than 1,900 national and international volunteer manuscript reviewers and top reviewers, like Dr. Bradley, are listed on the masthead of the monthly journal throughout the year.
"This honor speaks to Dr. Bradley's commitment to evidence-based radiology and to his scholarly commitment as the AJR is one of the most trusted radiology publications," said Dr. Laura Findeiss, chair of Radiology.
Dr. Bradley is Chief of Nuclear Medicine at The University of Tennessee Medical Center and Associate Professor of Radiology for the UT Graduate School of Medicine. He specializes in nuclear medicine and his work has been published 26 times in more than a half-dozen journals.
The AJR is a monthly peer-reviewed journal with a worldwide circulation of approximately 25,000. According to AJR, consistent, high-quality reviews are essential to the success of the journal.
Posted April 7, 2015
Top
---
The University of Tennessee Graduate School of Medicine
1924 Alcoa Highway
Knoxville, Tennessee 37920 | 865-305-9290
Copyright © 2019