News and Events
UTGSM Faculty Recognized for Excellence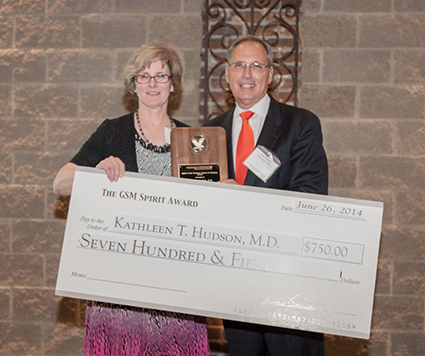 Each year, faculty are recognized for their extraordinary efforts in education and discovery. Faculty recognized for the 2014 faculty awards are

The GSM Spirit Award: Kathleen Hudson, MD, Professor and Residency Program Director, Radiology
Dr. Hudson has not only devoted her career to excellence in teaching, she comes from a long line of educators. She has served as the Radiology Residency Program Director since 2000. Prior to that, she served as the Diagnostic Radiology Residency Program Director for five years. She has served as Interim Chair to the department twice, most recently prior to Dr. Laura Findeiss's acceptance of the position. Dr. Hudson has received her department's Faculty Teaching Award twice and distinguished herself institutionally as a Distinguished Teaching Scholar and, most recently, as a member of the Academy of Scholars. Dr. Hudson has made significant contributions to the Radiology residency program curriculum from initiation of a first-year lecture series to simulated exercises performed in the UT Center for Advanced Medical Simulation. She has impacted medical education within the Graduate School of Medicine through the Internal Review Committee as well as nationally through participation on education committees including the Steering committee for the American Association of Academic Chief Residents in Radiology, the Residency Structure Ad Hoc Committee of the APDR, and the e-Learning Committee, Breast Section, of the American College of Radiology.

Excellence in Teaching Award: Bobby Howard, MD, Associate Professor, Obstetrics and Gynecology
Dr. Howard has consistently been praised for his mentorship both institutionally and nationally. Residents note that he welcomes clinical questions and encourages critical thinking. He has been honored by the Association of Professors of Gynecology and Obstetrics for Excellence in Teaching as well as by the American College of Obstetrics and Gynecology Council on Residency Education. Dr. Howard is Division Director of Maternal and Fetal Medicine since 2007 and served as Chair of the department from 2008-2014, stepping down to focus on clinical care.

Excellence in Teaching (Volunteer): W. Glaze Vaughan, MD, Clinical Assistant Professor, Surgery
Dr. Vaughan has been a volunteer faculty member since 2013 and has become an integral educator in the department, also serving as Chief of the Division of Pediatric Surgery. In addition to teaching, he is involved in the residency interview process, mock oral board exams and departmental activities. Residents note he encourages them to think for themselves when creating patient plans, and they have evaluated him in the top 20% of departmental faculty for clinical knowledge, teaching ability, commitment to education and professionalism.

Excellence and Leadership in Clinical Research: Irfan Asif, MD, Assistant Professor, Family Medicine
Dr. Asif conducts internationally acclaimed research on cardiac arrest in athletes, most recently presenting his research findings to the International Olympic Committee World Conference on Prevention of Injury and Illness in Sport. His research has been financially supported through organizations including the American Medical Society of Sports Medicine, the UT Physician's Medical Education Research Fund, and the Community Animal Fund.
Posted August 27, 2014