News and Events
UT Medical Center Recognized in U.S. News & World Report's 'America's Best Hospitals' Edition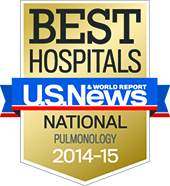 For the third consecutive year, The University of Tennessee Medical Center, which with the UT Graduate School of Medicine is the region's only academic medical center, is recognized in the "America's Best Hospitals" edition of U.S. News & World Report. The 2014-2015 report ranks the medical center No. 2 in the state of Tennessee and as the best hospital in Knoxville, based on its patient care performance and other key factors. Because of its independent analysis, the annual ranking by U.S. News is considered as a credible source for determining safety and quality in the medical field.
The publication recognizes 11 specialties at the medical center. The hospital's Pulmonology service ranks 28th in the nation while the following services earned recognition as high-performing specialties:
Cancer
Cardiology and Heart Surgery
Diabetes and Endocrinology
Ear, Nose and Throat
Gastroenterology and GI Surgery
Geriatrics
Gynecology
Nephrology
Orthopedics
Pulmonology
Urology
"Our team members work tirelessly to continuously advance our capabilities so we can provide the best possible care and hospital experience for our patients and their families," said Joe Landsman, president and CEO of The University of Tennessee Medical Center. "Recognition in the Best Hospitals edition of U.S. News and World Report motivates our team members to work that much harder to further advance the patient care, education and discovery at the medical center."
Now in its 25th year, the Best Hospitals report recognizes hospitals that excel in treating patients facing the greatest health challenges. For 2014-15, U.S. News evaluated hospitals in 16 adult specialties and ranked the top 50 in most of the specialties. Just 3 percent of the nearly 5,000 hospitals that were analyzed for Best Hospitals 2014-15 earned national ranking in even one specialty.
The rankings from the annual report were produced for U.S. News by RTI International, a nationally recognized research firm. The data is based on objective measures such as patient survival and safety data, the adequacy of nurse staffing levels and other data relative to the quality of care provided. U.S. News publishes the Best Hospitals report to help guide patients who need a high level of care because they face a particularly difficult surgery or have a challenging condition or added risk because of other health problems or age.
Posted August 20, 2014
Top
---
The University of Tennessee Graduate School of Medicine
1924 Alcoa Highway
Knoxville, Tennessee 37920 | 865-305-9290
Copyright © 2023