News and Events
Conference Addresses Best Practices for Utilizing Physician Assistants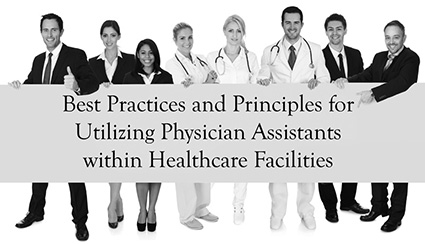 The landscape of healthcare is changing, and physician assistants are being utilized more and more in hospitals and doctors' offices. But what are best practices and how should they be integrated into medical staff?
A first conference of its kind, on August 9, South College in partnership with the UT Graduate School of Medicine will present "Best Practices and Principles for Utilizing Physician Assistants (PA) within Healthcare Facilities" at Holiday Inn World's Fair Park in Knoxville, Tennessee.
This conference is designed to provide a best practice approach in defining effective strategies for the utilization of physician assistants. Speakers will consist of experts in management and reimbursement of physician assistant services. This conference will benefit hospital administrators, healthcare administrators, educators and physicians who are interested or currently involved in the use of these health care professionals. Physician assistants and nurse practitioners are also welcome to participate.
Industry leaders will lead panel discussions on
Health System Viewpoints: Challenges and Barriers for Team Based Practice
Effective Solutions Regarding Reimbursement for PAs
Compliance with CMS and JCAHO Standards
Best Practice Models: Quality of Care, Credentialing, Risk Assessment and Mitigation, and Applicable State Regulations
MD/PA Teams: The Right Team for the Right Reason with the Right Outcome
Effective and Efficient Workforce of the Future: Solutions
The conference is approved for AMA credits and is acceptable for ACMPE credit. Registration is available at http://gsm.utmck.edu/cme/courses/2014/PA/main.cfm.
Posted June 12, 2014
Top
---
The University of Tennessee Graduate School of Medicine
1924 Alcoa Highway
Knoxville, Tennessee 37920 | 865-305-9290
Copyright © 2019