News and Events
Fall 2013 Frontiers Begins Magazine-Style Concept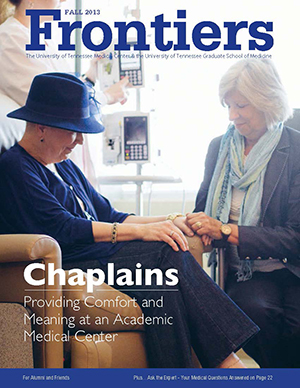 The Fall 2013 Frontiers is now available, launching a new concept for the magazine that has been in production for eight years. Previously, each issue of Frontiers related to a theme, including Stroke, Primary Care, Medical Education, and more. Frontiers has progressed to a magazine-style concept to incorporate stories happening throughout the entire medical center in each issue.
Inside this issue are stories about the services chaplains provide to patients, families, and staff; new discoveries in melanoma staging; and information on healthcare access for East Tennessee. In "Ask the Expert," an OB/GYN answers questions regarding pregnancy and flu, and the new Team Member Spotlight features Jennifer Mendez, a medication use specialist at The University of Tennessee Medical Center.
Frontiers magazine is a publication of the University of Tennessee Medical Center and the University of Tennessee Graduate School of Medicine. Learn more about Frontiers and sign up to receive Frontiers in the mail.
Posted December 5, 2013
Top
---
The University of Tennessee Graduate School of Medicine
1924 Alcoa Highway
Knoxville, Tennessee 37920 | 865-305-9290
Copyright © 2023