The Medical Explorations Program
Program Information
Shadowing (2 Weeks)
Students will spend two weeks shadowing in an observation-only environment. Each week is spent with a different physician or medical department and lasts from 8:00 a.m. to 4:30 p.m.* A list of participating specialties can be found below.
Student Lectures (Twice per week)
The first lecture includes guests speakers from the OR staff to discuss policies and procedures, administrators to introduce HIPAA, representatives from medical initiatives in the Knoxville area, and physicians from various departments. Students will also be debriefed on their previous rotation experiences.
The second lecture is strictly related to medical ethics. It is hosted by Dr. Annette Mendola, Assistant Professor and Chief, Division of Clinical Ethics.
If you would like to apply for the Medical Explorations Program, please visit our application page.
Participating Physicians
Below is a list of departments that have participated in Medical Explorations in the past. Physician participation is dependent on the schedule of the physician and the department.
Anesthesiology
Cardiology
Cardiothoracic
Dentistry
Emergency Medicine
Family Medicine
Gastroenterology
Hematology/Oncology
Infectious Disease
Internal Medicine
Neonatology
Nephrology
Neurosurgery
Nursing
Nutrition
OB/GYN
Ophthalmology
Oral Surgery
Orthopedics
Palliative Care
Pathology
Pharmacy
Pulmonary Diseases
Physical Therapy
Radiology
Radiation Oncology
Surgery, General
Surgery, Oncology
Surgery, Pediatric
Surgery, Vascular
Surgical Rehabilitation
Urology
Wound Care
Top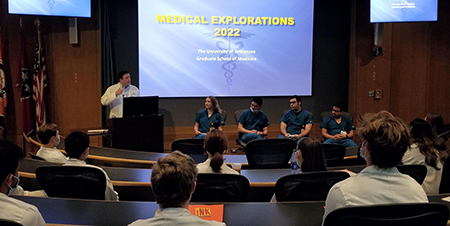 ---
Medical Exploration Program in the News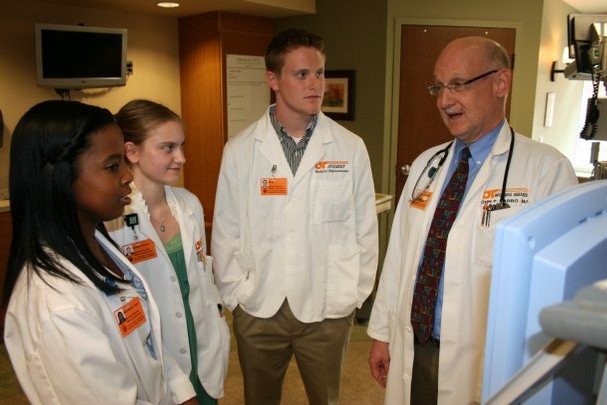 Medical Explorations began in 1991 when then-West High School student Brooks Davis boldly asked vascular and transplant surgeon Dr. Mitchell Goldman to be her mentor after hearing him speak at West. Today, Davis is Dr. Brooks Hagee, a San Antonio-area pediatrician.
Over time, their idea developed into today's Medical Explorations program, in which more than 400 students have participated.
Support the Medical Explorations Program
If you are interested in supporting the Medical Explorations Program through a donation, please contact us via email, by phone at 865-305-4353, or visit the Donate Now website. Your support will ensure the Medical Explorations Program is available for all students wishing to learn more about a career in healthcare.