Preston Medical Library
Cynthia J. Beeler, MLIS, AHIP
Associate Professor
Clinical Information Librarian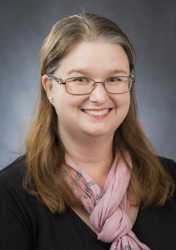 Research Focus
Clinical librarianship's impact on patient care
Health literacy
Reference trends
Impact of consumer health information training on public library staff

Mentoring Interests
Construction of literature searches for systematic reviews and IACUC
Research assistance in literature searches for evidence-based medicine
Teaching methods of literature searching
Current Publications
Quesenberry AC, Oelschlegel S, Earl M, Leonard K, Vaughn CJ.
The impact of library resources and services on the scholarly activity of medical faculty and residents. Medical Reference Services Quarterly. 2016 Jul-Sep;35(3):259-265.
Current Presentations
Vaughn C, Leonard K, Oelschlegel S. A health literacy forum to establish future collaborations. Presented at Southern Chapter Medical Library Association 65th Annual Meeting; 2015 Oct 21-25; San Juan, PR.
Top
Have a question? Ask us!
1924 Alcoa Hwy
Knoxville, TN 37920
Phone: 865-305-9525
Fax: 865-305-9527
Text: 865-262-8920
library@utmck.edu
---
Library Events
The Library is proud to host routine events such as the Human-Animal Bond in Tennessee (H.A.B.I.T.) stress-reduction dog visits and Literary Rounds: Where Medicine Mingles with the Muse. Both programs support complementary and alternative initiatives at UT Medical Center and the UT Graduate School of Medicine's narrative medicine curriculum.
The University of Tennessee Graduate School of Medicine
1924 Alcoa Highway
Knoxville, Tennessee 37920 | 865-305-9290
Copyright © 2018