Preston Medical Library
Sandra I. Oelschlegel, MLIS, AHIP
Associate Professor
Director, Preston Medical Library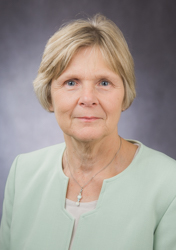 Research Focus
Delivery of health information to patients and consumers
Analyzing calls to Consumer Health Information Service and relating calls to socioeconomic indicators
Health information disparities in consumer populations
Health information literacy
Evaluation of library services and resources
Mentoring Interests
Research assistance in literature searches for evidence-based medicine
Resources for health information literacy
Medical Librarianship profession for School of Information Science student
Medical Library Association mentoring
Methods of research in the field of librarianship
Published Book Chapters
Oelschlegel SI, Earl M, Leonard, K. Consumer health information services and programs: Best practices. London: Rowman & Littlefield; 2016. Chapter 2, The University of Tennessee Medical Center's Preston Medical Library and Health Information Center; p. 19-34.
Current Publications
Lindsay JM, Partee RP, Oelschlegel S, Leonard K.
Mapping the changes to a health information service. Journal of Electronic Resources in Medical Libraries. 2016 Oct 10. [Epub ahead of print]
Quesenberry AC, Oelschlegel S, Earl M, Leonard K, Vaughn CJ.
The impact of library resources and services on the scholarly activity of medical faculty and residents. Medical Reference Services Quarterly. 2016 Jul-Sep;35(3):259-265.
Oelschlegel S, Gonzalez A, Frakes E.
Consumer health information centers in medical libraries: A survey of current practices. Journal of Hospital Librarianship. 2014 Oct;14(4);335-347
Oelschlegel S, Gonzalez AB.
Promoting National Library of Medicine and National Institutes of Health resources to industry: Developing a wellness outreach toolkit. Journal of Consumer Health on the Internet. 2014 Sep;18(3):238-252
Current Presentations
Leonard KE, Oelschlegel S, Earl M, Doyle D. Marketing a consumer health service: A mosaic of cultures to promote patient education. Presented at 116th Annual Meeting of the Medical Library Association; 2016 May 13-18; Toronto, Canada.
Earl M, Oelschlegel SI. Managing up and demonstrating value through monthly metrics. Presented at Tennessee Library Association Annual Conference; 2016 Apr 6-8; Kingsport, TN.
Vaughn C, Leonard K, Oelschlegel S. A health literacy forum to establish future collaborations. Presented at Southern Chapter Medical Library Association 65th Annual Meeting; 2015 Oct 21-25; San Juan, PR.
Oelschlegel S, Earl M, Vaughn C, Lindsay JM, Leonard K. Improving a library outreach service by targeting community partners in ZIP Codes identified as health information disparity area. Presented at Southern Chapter Medical Library Association; 2014 Oct 26-30; Mobile, AL.
Top