Knoxville, Tennessee
Knoxville, Tennessee has been voted "one of America's mosts" by several organizations. The city is one of the gateways to the Great Smoky Mountains National Parks and is within a day's drive of nearly 75% of the U.S. population. Come see how living in the greater Knoxville area, with its multi-faceted excitement, culture and beauty, will enhance your life and educational experience.
Recent Honors for Knoxville, Tennessee
Knoxville #2 in list of 10 Happiest Cities to Work.
"If you are hoping to smile more at work, think about moving to Knoxville." A recent survey compiled by CareerBliss.com is based on analysis of more than 36,000 independent employee reviews between Nov. 2011 and Nov. 2012. Employees all over the country were asked to evaluate 10 factors that affect workplace happiness. Those include one's relationship with the boss and co-workers, work environment, job resources, compensation, growth opportunities, company culture, company reputation, daily tasks, and control over the work done does on a daily basis. Source:Forbes Magazine, Jacquelyn Smith, January 9, 2013.
Knoxville #8 in list of Fastest Growing Cities.
"Knoxville currently has the best employment outlook in the nation, with 25% of employers in the area saying they expect to add jobs this spring," according to staffing firm ManpowerGroup. "The cost of living is also low -- about 80% of the national average -- as is crime. There are also good public schools and plenty to do outdoors with nearby mountains, fishing streams and lakes." Source: CNN Money Magazine, April 2012.
Knoxville named one of "Summer in the USA: 20 Best Vacation Destinations"
Knoxville's location on the banks of the Tennessee River and in the foothills of the Smoky Mountains makes it a perfect warm-weather town." Source: Frommers.com June 2012.
#1 Knoxville Named Best City for Jobs
According to a survey recently released by ManpowerGroup and published by Forbes magazine, Knoxville is currently the best city for employment outlook. Source: Forbes Magazine, Jacquelyn Smith, March 13, 2012
Knoxville named one of the "Best Sports Cities in the South"
Knoxville (Ranked #8) is "home to some of the most loyal college fans in the entire country." Source: Bleacher Report March 2012.
Top
Quick Facts About Knoxville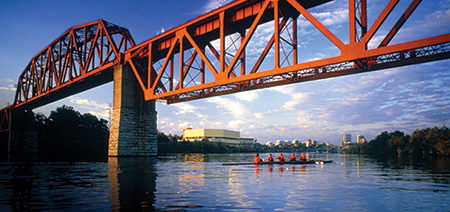 Population
City of Knoxville - 177,661
Knox County - 389,327
MSA - 704,431

Median Age
Knoxville MSA - 37.3
City of Knoxville - 33.4
Knox County - 36.0

Locations Close to Knoxville
Atlanta, GA - 213 miles
Charlotte, NC - 244 miles
Chattanooga, TN - 112 miles
Cincinnati, OH - 260 miles
Memphis, TN - 392 miles
Nashville, TN - 180 miles

---
Learn More About Knoxville