The Department of Medicine
Dale C. Wortham, MD
Professor Emeritus
Division of Cardiology
Section of Interventional Cardiology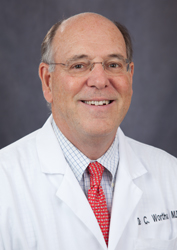 Clinical Focus
Mitral Valvuloplasty,Peripheral Angiography and Interventions,Interventional Cardiology,Permanent Pacemakers,Intravascular Radiation Therapy,Brachytherapy
Education
Medical School
Baylor College of Medicine, 1974
Residency
Letterman Army Medical Center, 1977
Fellowship
Cardiology, Letterman Army Medical Center, 1980
Certifications
American Board of Internal Medicine
American Board of Internal Medicine - Cardiovascular Disease
Current Publications
Dolacky SD, Wehber AA, Wortham DC, Roberts MA, Kaiser BR, Hirsh JB.
Nailed it: Conservative management of penetrating injury and potential infection of a cardiovascular implantable electronic device. Pacing and Clinical Electrophysiology: Pace. 2016 Dec;39(12):1412-1414. Epub 2016 Jun 19.
Gorman EW, Perkel D, Dennis D, Yates J, Heidel RE, Wortham D.
Validation of the HAS-BLED tool in atrial fibrillation patients receiving rivaroxaban. Journal of Atrial Fibrillation. 2016 Aug-Sep;9(2):16-18.
McWilliams-Koeppen HP, Foster JS, Hackenbrack N, Ramirez-Alvarado M, Donohoe D, Williams A, Macy S, Wooliver C, Wortham D, Morrell-Falvey J, Foster CM, Kennel SJ, Wall JS.
Light chain amyloid fibrils cause metabolic dysfunction in human cardiomyocytes. PLoS One. 2015 Sep 22;10(9):e0137716. eCollection 2015.
Current Presentations
Holbert JC, Litton KM, Wortham D, La Charité T. Sound the alarm! Reducing unnecessary telemetry. Presented at Tennessee Chapter of the American College of Cardiology; 2017 Nov 3-4; Nashville, TN.
Venero C, Roberts M, Crawley P, Wortham D. Comparison of lipid and anti-inflammatory levels between Rosuvastatin or Atorvastatin daily vs. thrice weekly "doubled-daily" dosing. Presented at National Lipid Association Scientific Session; 2015 Jun 11-14; Chicago, IL.
Top