The Department of Medicine
J. Francis Turner, Jr., MD
Professor
Vice Chairman of Internal Medicine
Division of Pulmonary Medicine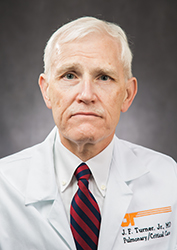 Research Focus
Lung cancer diagnosis and treatment remain the cornerstone of Dr. Turner's research efforts. Among other projects, Dr. Turner is examining the role of advanced imaging with use of specialized PET scans in an attempt to determine response to immune-oncologic treatment.
Clinical Focus
Lung Cancer and Interventional Pulmonology
Education
Medical School
St. George's University School of Medicine, Grenada, West Indies, 1981
Residency
Internal Medicine, McLaren General Hospital, Flint, MI, 1985
Fellowships
Pulmonary Medicine, University of California, Davis, 1990
Pulmonary and Critical Care, Fitzsimons Army Medical Center, Aurora, CO, 1992
Interventional Pulmonary Medicine Fellow/Critical Care Medicine Fellow, University of Maryland Medical Center; R. Adams Cowley Shock Trauma Center, Baltimore, MD, 1995
Certifications

American Board of Internal Medicine
American Board of Internal Medicine - Pulmonary Medicine
American Board of Internal Medicine - Critical Care Medicine
Professional Affiliations
Fellow, American College of Physicians
Fellow, American College of Chest Physicians
Fellow, American College of Critical Care Medicine
International Consultant, Chinese Association for Bronchology and Interventional Pulmonology


Books and Book Chapters
Wang, KP, Mehta A, Turner JF (eds): Flexible Bronchoscopy, 3rd edition (Chinese translation). Hoboken: Blackwell Science, 2016.
Current Publications
Shi D, Li F, Wang K, Kong C, Huang H, Li Q, Jin F, Hu C, Wang C, Shi H, Hu Z, Dong Y, Ning Y, Tsakiridis K, Sapalidis K, Kosmidis C, Vagionas A, Hohenforst-Schmidt W, Freitag L, Turner JF, Drevelegas K, Perdikouri EI, Kovacevic T, Sarcev T, Zaric B, Petanidis S, Baka S, Boukovinas I, Kakolyris S, Zarogoulidis P, Bai C.
The development of bronchoscopy in China: A national cross-sectional study. Journal of Cancer. 2020 Jul 20;11(19):5547-5555. eCollection 2020. Available in PubMed: Sep 2020.
Huang H, Seif MM, Ren J, Shi H, Shen X, Wang Q, Yang J, Zhang Y, Ning Y, Yang Y, Zarogoulidis P, Tsakiridis K, Hohenforst-Schmidt W, Turner JF, Michael S, Li Q, Freitag L, Fyntanidou V, Kosmidis C, Romanidis K, Oikonomou P, Sapalidis K, Bai C.
Endobronchial removal of the high-risk osseous foreign bodies with evaluation and planning by virtual navigation system. Respiratory Medicine Case Reports. 2019;28:100952.
Livesay J, Biney I, Turner JF Jr.
Chylothorax and chylopericardium: A complication of long-term central venous catheter use. Case Reports in Pulmonology. 2019 Jul 11;2019:4908259. eCollection 2019.
Current Presentations
Biney I, Novoa A, Alsharif O, Reynolds B, Turner JF, McCormack M, Dudney T. Impact of hypercapnia on outcomes in patients with COPD presenting with septic shock. Presented at Society of Critical Care Medicine 49th Annual Critical Care Conference; 2020 Feb 16-19; Orlando, FL.
Biney IN, Akhtar Y, Turner FJ, McKeown P, Soto FJ. Acute pulmonary embolism associated with a mobile right atrial thrombus managed by suction thrombectomy. Presented at CHEST Annual Meeting; 2019 Oct 19-23; New Orleans, LA.
Turner JF, Peeke J, Baveja S, Crook J, Dudney T. Incidental non-cardiac abnormalities found on cardiac CT for coronary calcium scoring. Presented at American Thoracic Society International Conference; 2019 May 17-22; Dallas, TX.
Baveja S, Heidel E, Turner JF, Nodit L. Lymph nodes in lung cancer patients with granulomatous disease: To be or not to be metastasis. Presented at American Thoracic Society International Conference; 2019 May 17-22; Dallas, TX.
Top