The Department of Medicine
Bret A. Rogers, MD
Assistant Professor
Fellowship Director, Cardiovascular Diseases
Division of Cardiology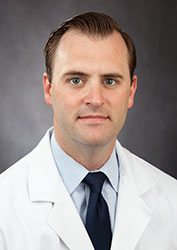 Clinical Focus
Valvular Heart Disease; Hypertrophic Cardiomyopathy; Transesophageal Echocardiography
Education
Medical School
Jefferson Medical College of Thomas Jefferson University, School of Medicine, Philadelphia, PA, 2001
Residency
Duke University Medical Center, Durham, NC, 2004
Fellowship
The Cleveland Clinic Foundation, Cleveland Ohio, Cardiovascular Medicine Fellowship, 2007
Certifications
Internal Medicine
Cardiovascular Disease
Echocardiography
Nuclear Cardiology
Professional Affiliations
American College of Cardiology
American Heart Association
American Society of Echocardiography
American Society of Nuclear Cardiology
Current Publications
Litton KM, Rogers BA.
Edwardsiella tarda endocarditis confirmed by indium-111 white blood cell scan: An unusual pathogen and diagnostic modality. Case Reports in Infectious Diseases. 2016;2016:1082160. Epub 2016 Jan 17.
Current Presentations
Morris JC, Rogers BA, Emmett K. Ageism and pathway driven physician bias: A case of misleading "Heart Failure." Presented at Annual Scientific Meeting of the American Geriatrics Society; 2017 May 18-20; San Antonio, TX.
Top
---
The University of Tennessee Graduate School of Medicine
1924 Alcoa Highway
Knoxville, Tennessee 37920 | 865-305-9290
Copyright © 2018